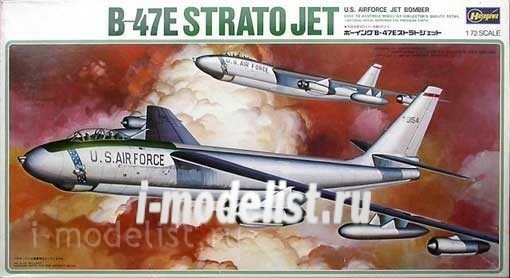 04057 Hasegawa 1/72 B-47E STRATOJET
Vendor code: 04057
Manufacturer: Hasegawa
Availability: Are available
Additional Information
the B-47 Stratojet is a six-engine strategic bomber. The aircraft is a monoplane with a high-swept wing and single-tail tail.
the Fuselage is all-metal. In the bow of the sealed cabin crew of three people. Members of the crew sitting under a single lamp in tandem — one after the other. In the Central part of the fuselage is a heated bomb Bay. In the rear part is a defensive complex of turrets with two guns M24A1 caliber 20 mm.
the Wing has a sweep of 36 degrees. The wing design is very flexible — the endings could range with an amplitude of up to 4.5 meters. Under the wing on the pylons suspended engines J47. On 2 pylons hanging on the engines 1 and 2 (closer to the fuselage) installed at the two.
Due to the low power of the engines, and the limited lift of the wing at low speeds, the B-47 had a very large takeoff distance of 2 kilometers, which limited the number of available airfields. To solve this problem, the aircraft was installed rocket boosters thrust of 14.6 TC. Take-off rockets were impressive, soaring so the bomber was, at that time, the star of all the show.
the Chassis of the aircraft has a Bicycle design. The nose pillar between the cockpit and the bomb Bay and the tail pillar behind the bomb Bay. Two more auxiliary racks are located on the engine nacelles.
Caution! Glue and paints are not included.
The configuration and appearance of the model are subject to change without notice.
---
Related Products
---
You watched recently