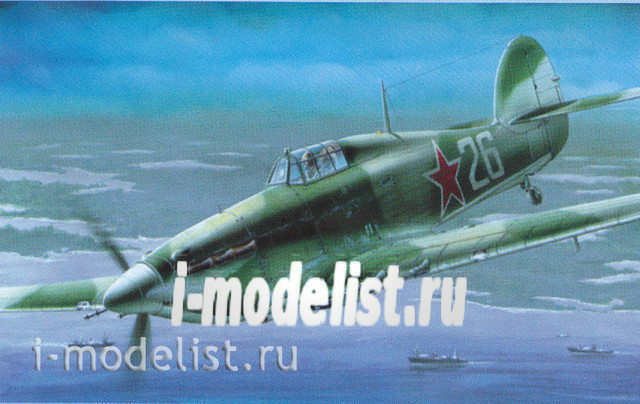 207207 Modeler 1/72 "Hurricane Mk.IIC"
Vendor code: 207207
Manufacturer: Моделист
Availability: Are available
Additional Information
a Significant part of supplied to the Soviet Union during the Second World War fighter aircraft were British "hurricane", most of them belonged to the modification of IIB (1557 copies.) and IIC (1009 copies.). Hurricane Mk IIC was produced in factories in Langi in may 1941, and its delivery to the Soviet Union began in the second half of 1942. Compared with the first modifications, the armament was significantly strengthened – 4 x 20mm British-Hispano guns turned the aircraft into a flying battery. It MkIIC became the most mass modification of hurricane – 4711 copies of 12875 made in the UK.
In the Soviet Union "Hurricane" MkIIC mainly used in air defense. To fight the fighters, it was not suitable because of the low speed, but represented a serious danger to enemy bombers (at that time, no Soviet fighter had such powerful weapons). "Hurricane" IIC – 946-th fighter regiment in 1943-44gg covered Tikhvin and Ladoga route. Actively used "Hurricane" in the Northern fleet as fighters, bombers and attack aircraft. In combat units of the Northern Fleet "Hurricane" was used until October 1944 In the Baltic sea, they disappeared much earlier – at the end of 1942, the 3rd guards IAP rearmed on LAGG-3. Several longer these aircraft fought on the Karelian front, where they were opposed by the "motley" of the Finnish air force. Thanks to the use of more modern "hurricane" MkII and our LAGG-3, instead of outdated And-16, And-15 and-153, managed to neutralize the Finnish aircraft, which in the initial period of the war operated quite successfully. By the way, this is where the "Hurricane" had to fight against their compatriots – "Blenheim", "Gladiators", and "hurricane" MK I.
With all its shortcomings "Hurricane" helped the Soviet air force to survive the most difficult period of the war, and then brought a lot of good. Many enemies and friends had to remember and "hurricane" Mk II, for example Board number 77 (reg. № BN297), which fought the commander of the 2nd Guards fighter regiment Boris Safonov. So this plane is a piece of not only British, but also our history. In total, more than 15,000 aircraft were manufactured (production ceased in September 1944). During the first year of the war "Hurricane shot down 1500 Luftwaffe aircraft, ie half destroyed by the British air force during this period.
| | |
| --- | --- |
| Flight data | |
| Wingspan, m | 12.2 |
| Length, m | 9,84 |
| Height, m | 4.0 |
| wing Area, m | 23.92 |
| Empty weight, m | 2640 |
| Takeoff weight, m | 3540 |
| Engine | Rolls Royce "Merlin" – 1280l.C. |
| Maximum speed,km/h | 543 |
| Range (nom./max.), km | 736/1550 |
| Practical ceiling, m | 10900 |
| climb Time 6100m , min. | 9.1 |
Warning! Glue and paint are not included.
Caution! Glue and paints are not included.
The configuration and appearance of the model are subject to change without notice.
---
Related Products
---
You watched recently