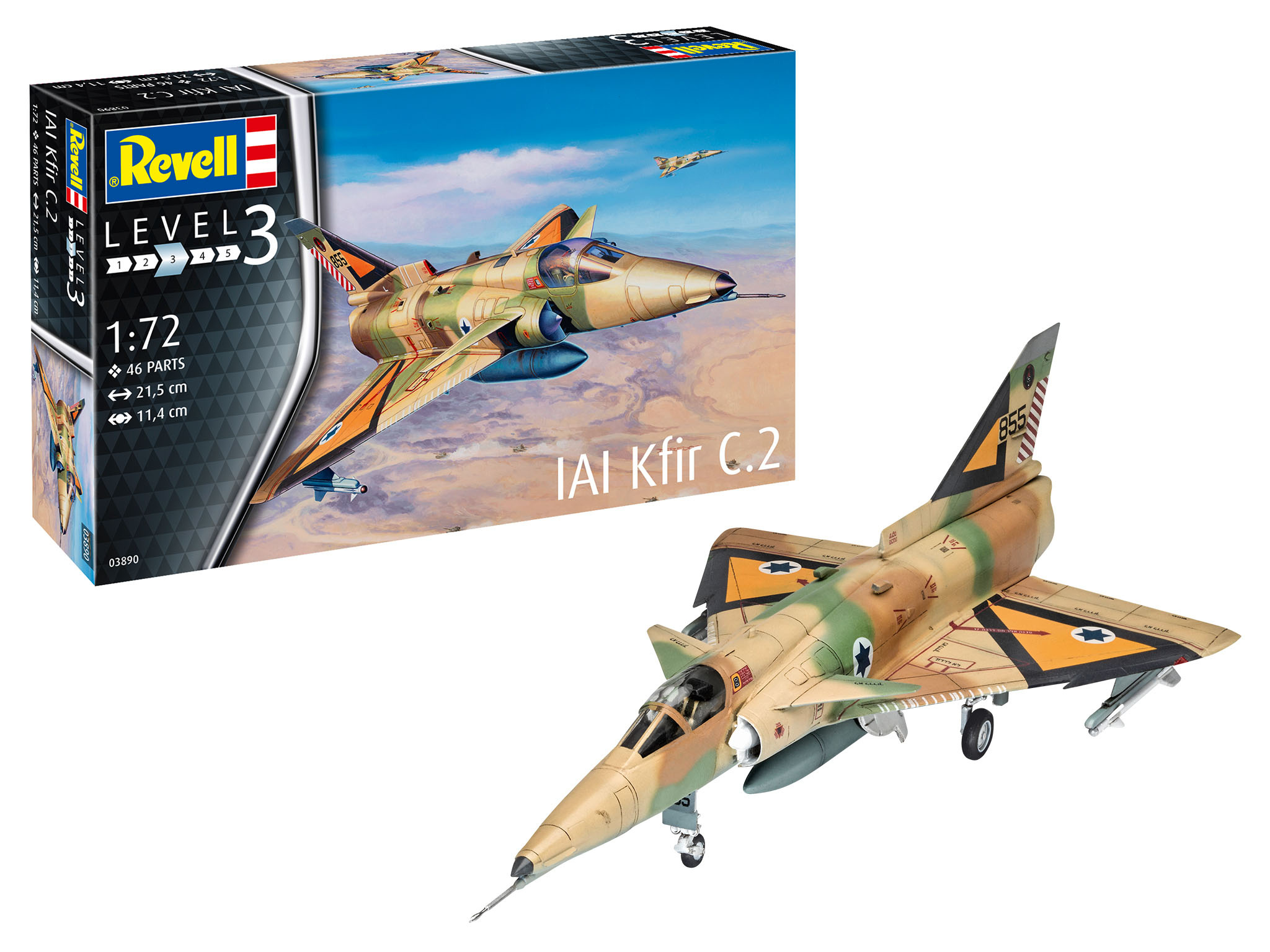 03890 Revell 1/72 all-Weather multipurpose fighter Kfir C-2
Vendor code: 03890
Manufacturer: Revell
Availability: Are available
Additional Information
Kfir P. 2 is a monoplane with a low-lying triangular wing having a conical twist. It is all-metal caisson with the working covering from mechanically processed panels with monolithic reinforcing elements. The relative thickness of the root 4,5%, at the end - 3,5%. The angle of the transverse V-1grad. At the end parts 40% polorama console there is a ledge to the front edge. The wing is equipped with two-section elevons with small internal surfaces, used as a trimmer and Elevator. Drive elevons - hydraulic. On the upper and lower surface of the wing near the leading edge are air brakes.
Fuselage - all-metal type semi-monocoque, made in accordance with the rule of areas.  On the toe of the fuselage side plates are installed, serving to improve stability when flying at large angles of attack. Side air intakes adjustable with Central body (semi-cone). On the sides of the air intake ducts fixed console unmanaged PGO. 
the all-Metal keel has a rudder with a hydraulic drive. The rudder trimmer is controlled by a servo-mechanism. Strongly developed dorsal fin of triangular cross-section serves as a flow channel of air for cooling the afterburner TURBOJET. There is a small ventral keel In the fairing under the rudder is a brake parachute.
the Airframe is designed for a maximum overload of 9.5. Chassis - tricycle. Each rack is equipped with one wheel. The front rack is removed by turning back, the main - in the wing and fuselage. Nose wheel - driven, damped oscillations "shimmy". Shock absorbers - oil-water, brakes - disc. Two landing lights are located on the nose landing gear.
The recommended paints
| | |
| --- | --- |
| | Черная резина (Rubber Black) |
| | Хаки матовая (Khaki) |
| | Голубой авиа (Air Blue) |
| | Светло-серый (Light Grey) |
| | Красно-коричневый (Red Brown) |
| | Серебро (Silver) |
| | Белый матовая (Flat White) |
| | Черный матовая (Flat Black) |
| | Желтый матовая (Flat Yellow) |
| | Зеленый матовая (Flat Green) |
Caution! Glue and paints are not included.
The configuration and appearance of the model are subject to change without notice.
---
Related Products
---
You watched recently