02202 Trumpeter 1/32 F-105G Thunderchief
Vendor code:
02202
Manufacturer:
Trumpeter
Availability:
Are available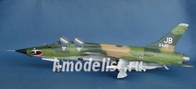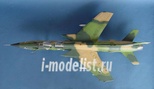 Additional Information
the
F-105Fs which were fitted with greatly improved avionics. The EF-105F was temporarily applied to these aircraft, but their purpose was eventually changed to F-105G. The F-105G was equipped with radar and warning systems AN / APR-35, AN / APR-36, AN / APR-37 and AN / ALR-31 (RHAW). The an / ALR-31 setup required the wings to be redesigned, in which a pair of antennas took the place of navigation lights that were moved to the front edge of the wing.
model Length: 635 mm
Wingspan: 338 mm
Number of parts 534 PCs.
Внимание! Клей и краски в набор модели не входит.