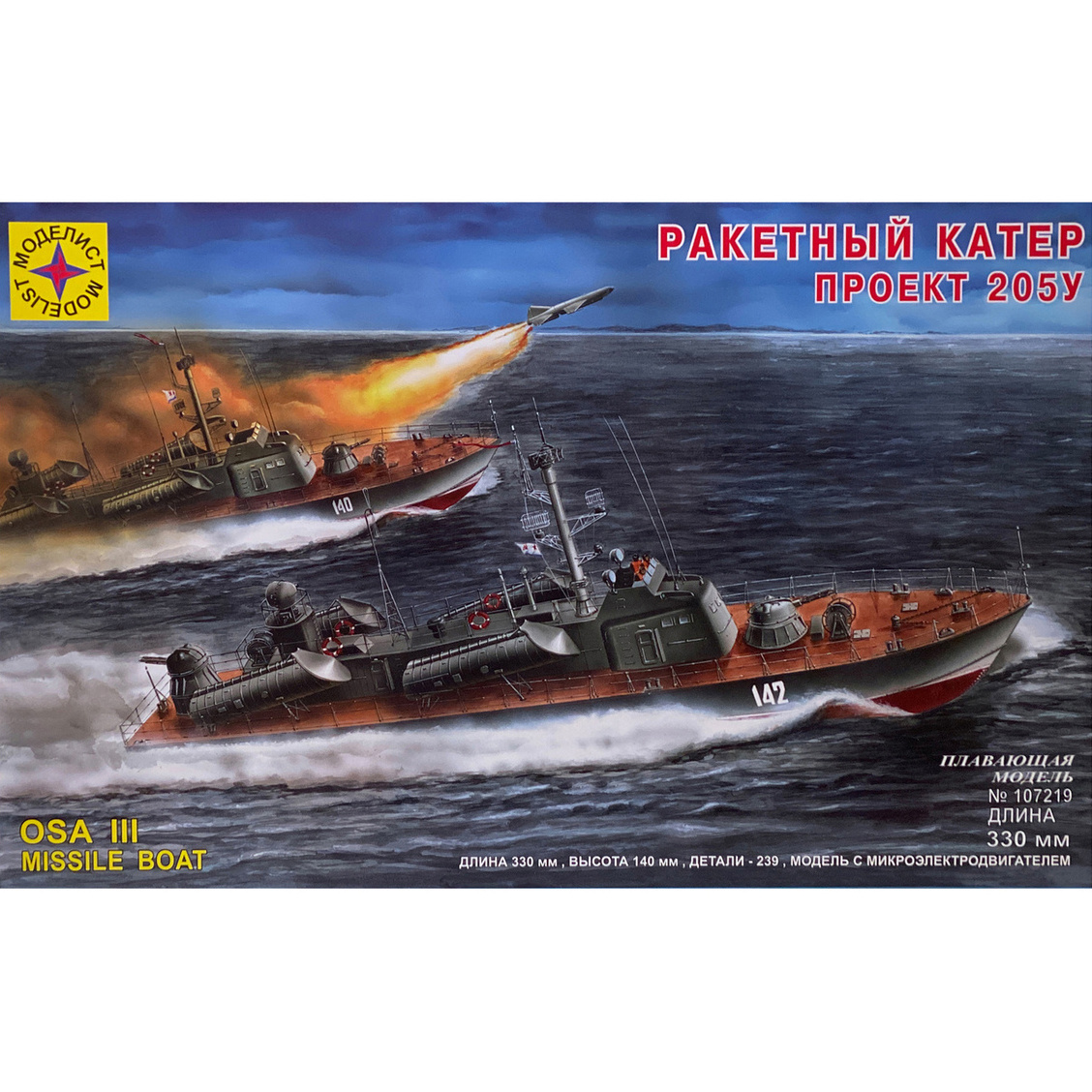 107219 Modelist length 330mm Missile boat Project 205У
Vendor code: 107219
Manufacturer: Моделист
Availability: Are available
Additional Information
In the mid-50s, the Soviet Union began work on cruise missiles designed specifically for small displacement ships. The first Soviet missile boats were created by installing two cruise missiles on torpedo boats of the Bolshevik type in 1958. Soon they were followed by boats more advanced projects. For many years, only the ships of our Navy were armed with cruise missiles, and only after sinking by Egyptian missile boats of the Israeli destroyer "Eilat" (October 21, 1967) cruise missiles were recognized even in the fleets of traditional Maritime powers.The proposed model is a missile boat project 205U (NATO classification "Osa-II"). This boat is a further development of the missile boats of the project 205, which have proven themselves over many years of operation and were in service not only with the Soviet Navy and the fleets of the Warsaw Pact countries, but also supplied to Algeria, North Korea, China, Egypt, India, Iraq, Somalia, Syria and several other countries.The 205U project, like the 205 project, was developed at The Central Marine Design Bureau (CIMB) Almaz. Cmkb Almaz Zvezdated its activity with the creation of "mosquito fleet" boats back in 1940, and to date it has developed dozens of projects of torpedo, missile, patrol, landing boats and larger ships. Boat project 205У were built in Leningrad at Primorsky shipyard (19 copies) and Vladivostok (Vladivostok shipyard – 13 copies). The first boat was built in 1965, the last – in 1973. From its predecessors – boats of the project 205 – these boats were distinguished primarily by the method of installation of main armament: launcher cruise missiles halls were replaced with launchers container type. The fully automated artillery system AK-230 was also used for the first time on the boats of the project 205 and 205U. This 30-mm gun mount used for protection against aircraft, unmanned means of air attack, and the boats of the enemy. Control of guidance mechanisms is carried out from the fire control system Mr-104 ("Mast"). For large Maritime powers missile boats are valuable as an additional means of warfare at sea. A missile boat, almost equal in power to a surface ship of almost any class, remains a relatively cheap ship, feasible for the budget of even a not very rich country.
Performance characteristics
Displacement standard
184 t
full Displacement
226 t
Longest length
38.6 m
waterline Length
37.5 m
maximum Width
7.6 m
waterline Width
5.9 m
Draft
2,01 m
Diesel three-shaft unit with a total capacity of 12 000 HP allows to reach speeds of up to 41 knots
14-knot cruising range
2000 miles
Armament
4 launchers of anti-ship cruise missiles P-15U
Portable anti-aircraft missile system (MANPADS) "Strela-3M"
2x2 30-mm art installations AK-230
Crew
29
Autonomy
5 days
Warning! Glue and paint are not included.
The recommended paints
| | |
| --- | --- |
| | Коричневый матовая (Flat Brown) |
| | Зеленый глянцевая (Gloss Green) |
| | Красный глянцевая (Red) |
| | Черный глянцевая (Black) |
| | Серый (Grey) |
| | Серебро (Silver) |
| | Золfromой (Gold) |
Caution! Glue and paints are not included.
The configuration and appearance of the model are subject to change without notice.
---
Related Products
---
You watched recently