AK-087 AK Interactive Set for the application of the effects ENGINES AND METAL WEATHERING SET (of watering engine and metal)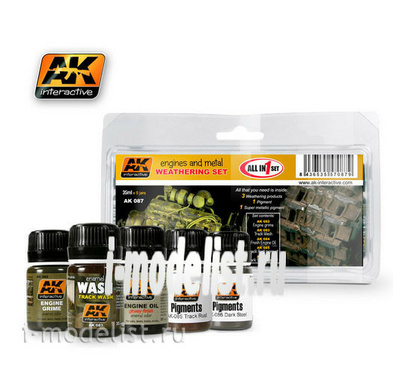 Vendor code:
AK-087
Manufacturer:
AK Interactive
Availability:
Are available
Additional Information
the kit includes everything you need to create realistic effects on any type of engine or metal object, such as tank tracks. In a set of two colors for the engine, the effects of dirt and grease. For metal objects and trucks, a washout, a dark rust color pigment, and a unique metal color pigment that becomes more shiny when polished, while this pigment does not contain any metal particles, has been developed.
Package includes:
-AK-082 Engine grime. (engine pollution)
-AK-083 Track Wash. (flushing for tracks)
-AK-084 Engine Oil. (engine oil)
-AK-085 Track Rust Pigment. (rust pigment to the tracks)
-AK-086 Dark Steel Pigment. (dark steel pigment)