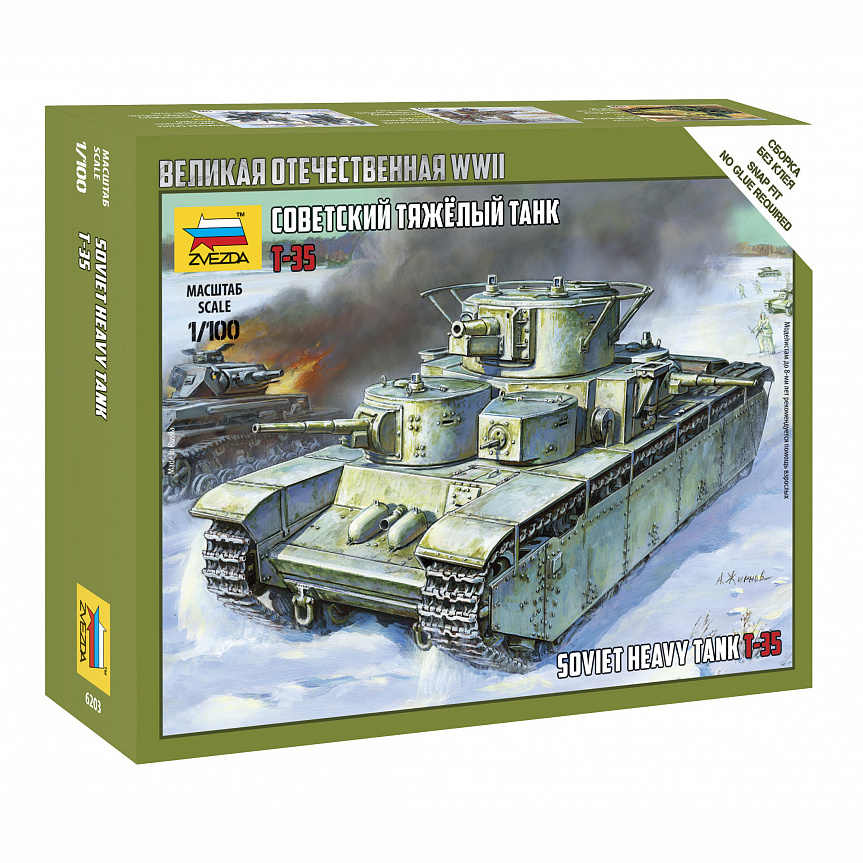 1/100 Zvezda 6203 Soviet heavy tank T-35
Vendor code: 6203
Manufacturer: Zvezda
Availability: Are available
Additional Information
the Heavy t-35 tank, a machine that terrified the German invaders,because of the huge size and endless shelling of the enemy from the five towers. The model is assembled and ready to Supplement the collections of modelers and players. Assembly is carried out without glue. The tank, with the help of a game card, is easily integrated into the game system Art of Tactic and allows the player to expand their gaming capabilities.
history:
the T-35 Heavy tank was developed in 1932 under the leadership of Nikolai Vsevolodovich Barykov. The tank had 5 towers and weighed 50 tons. Was intended to break through the defense line of the enemy. To early 30s, the tank was not bad weapons, but in the second half of the 30s he was very much out of date. Bulletproof armor had no chance against the projectile of an anti-tank gun. T-35 was a symbol of the Soviet system and looked great at parades, but in battle he did not show himself. Most of the machines were lost in the early days of the war, mainly due to breakdowns. One T-35 participated in the battle of Moscow.
Using the tank in Art of Tactic:
In the game T-35, being a heavy tank, costs 33 points and has protection "0". The tank is designed to support infantry on the battlefield, fight light artillery and armored vehicles. Its only advantage is its class – the German infantry is not able to fight with heavy tanks. Protection "0" makes tank useless for tank duels and breakthrough.
---
Related Products
---
You watched recently