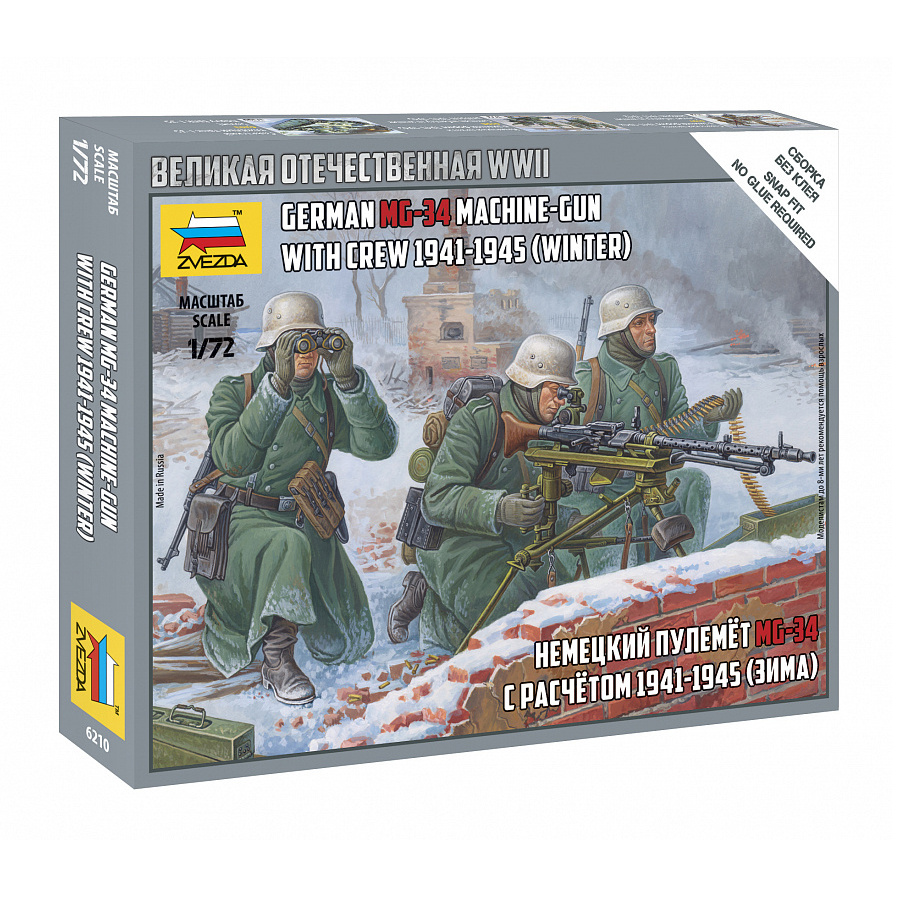 Zvezda 6210 1/72 German machinegun MG-34 with the calculation of 1941-1945 (winter)
Vendor code: 6210
Manufacturer: Zvezda
Availability: Are available
Additional Information
German machine gun MG-34V years WWII was used as a universal weapon. It could be used in manual and machine versions. Trying to avoid repetition, in the new mini-set we added entourage – brick wall. The set now looks more solid. That will please modelers and players. The set will be used in the game "Battle for Moscow". Buying this set will diversify the gameplay and expand the capabilities of players.
history:
German machine gunners until the winter of 1942 were the basis of the defense of the German army. Despite the difficulties caused by the cold, the German infantry went forward.  A special role in the offensive and repelling the Soviet counterattack was played by the guns of the German army. In the conditions of suburban towns and villages, machine guns installed in houses, turned into Bunkers, causing a lot of problems in the advancing parts of the red army.
Using a machine gun in Art of Tactic:
In the game the machine gun crew of the machine gun completely copies its prototype. Perfectly restrains the advancing infantry, very mobile, and on a hill makes a high-rise strong nut. Cons, like all infantry units in the game: vulnerability to open terrain, vulnerability to tank guns and vulnerability to enemy aircraft. With all this, the machine gun is the support of any anti-personnel defense.
---
Related Products
---
You watched recently
Vendor code: 6210