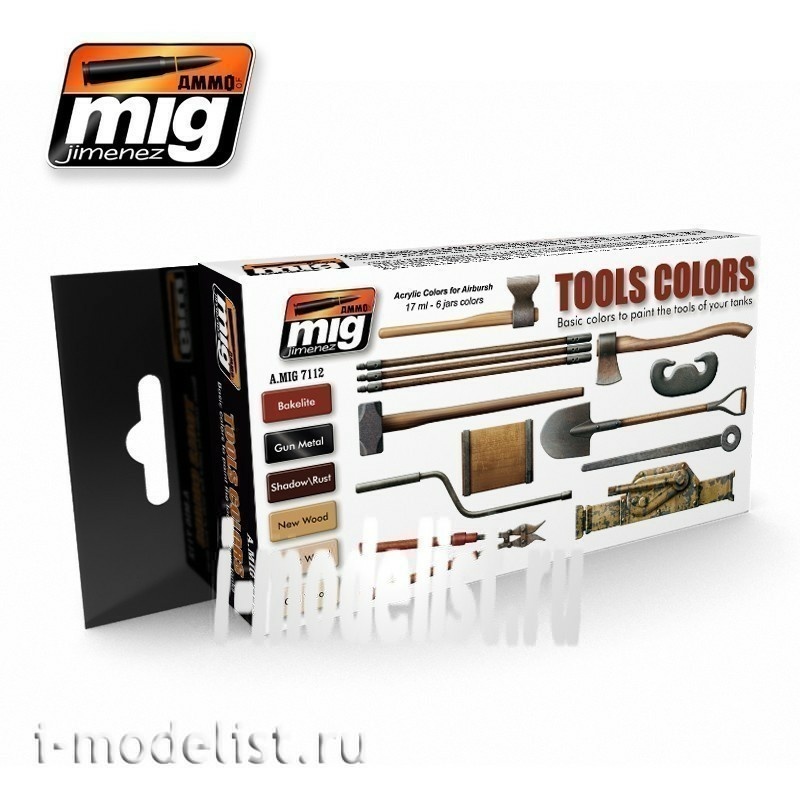 Additional Information
Shades of wood color. The set can be used for painting wooden handles of trench tools and other wooden parts and surfaces. In a set of three shades of wood color, paint imitating a metal surface and paint imitating bakelite varnish, widely used to cover some tools during the Second World War. In addition, the kit includes a dark brown color, the use of which can help to reproduce various dirt, stains and chips on wooden parts and surfaces. The set includes acrylic paints, which can be applied with a brush or airbrush. The paints are water-based, odorless, non-toxic. It is recommended to mix intensively before use. As a solvent is best suited MIG -2000 Acrylic Thinner. Complete drying after 24 hours.
Composition set:
A. MIG-036 OLD WOOD
A. MIG-037 NEW WOOD
A. MIG-038 LIGHT WOOD
A. MIG-043 SHADOW RUST
A. MIG-045 GUN METAL
A. MIG-913 RED BROWN BASE.
Внимание! Краска на основе акрила не является морозоустойчивой. При оформлении order в зимнее time года с температурой ниже нуля данная краска продается без гарантии возврата в случае утери первичных свойств. 
Краска акриловая, объем 17 мл.
Отлично подходит как для аэрографа, так и для кисти.
Производство: Испания.
---
Related Products