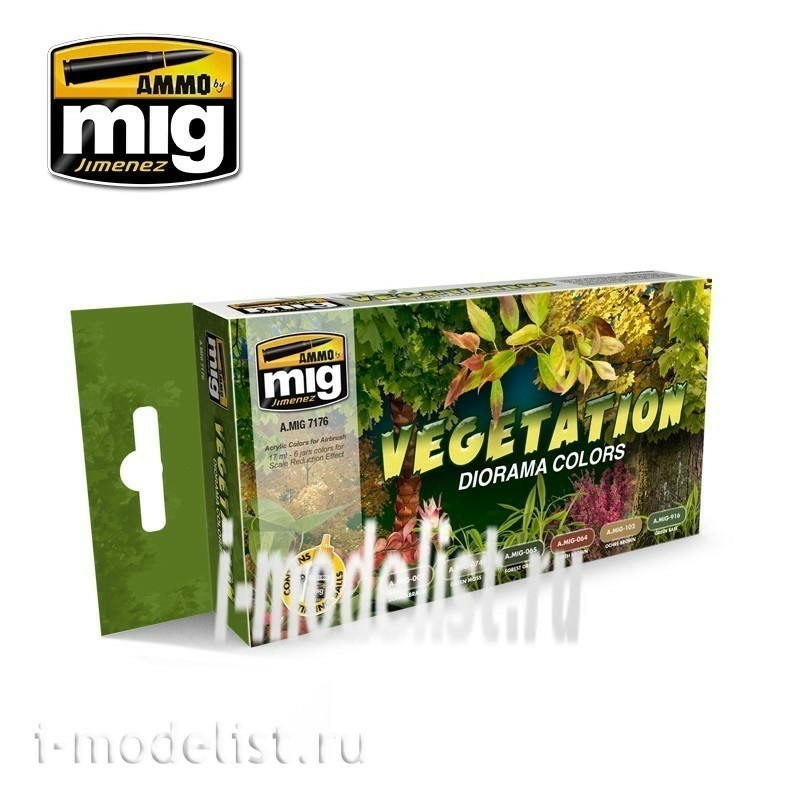 AMIG7176 Mig Ammo acrylic Set of paints VEGETATION DIORAMA COLORS
Vendor code: AMIG7176
Manufacturer: Ammo Mig
Availability: Are available
Additional Information
Specially designed natural color that can be used for realistic drawing of any scenario modeling nature. This exclusive set includes six earth and green tones, perfect for applying different shades of landscape and vegetation. Thanks to these unique colors we can get the most realistic finishes in our dioramas.
Set includes:
the
A. MIG-0007 DUNKELBRAUN
A. MIG-0074 GREEN MOSS
the
A. MIG-0065 FOREST GREEN
the
A. MIG-0064 EARTH BROWN
the
A. MIG-0102 OCHRE BROWN
the
A. MIG-0916 GREEN BASE
Внимание! Краска на основе акрила не является морозоустойчивой. При оформлении order в зимнее time года с температурой ниже нуля данная краска продается без гарантии возврата в случае утери первичных свойств. 
Краска акриловая, объем 17 мл.
Отлично подходит как для аэрографа, так и для кисти.
Производство: Испания.
---
Related Products
---
You watched recently