70790 Paint metal lacquer Vallejo Silver/Silver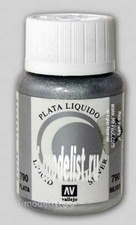 Vendor code:
70790
Manufacturer:
Vallejo
Availability:
Are available
Additional Information
the Paint is alcohol-based, more vivid and glossy than the counterparts, water-based. It is dissolved only by alcohol. Reliable and light-resistant. Due to the specific weight of the pigment, the paint must be shaken thoroughly before use. If the paint must be diluted, it can be done only 96% alcohol to avoid oxidation. The paint can not be diluted with water, the slightest moisture will cause rust inside the container. Paint is flammable but non-toxic and, if used properly, completely safe for health. The special design of the lid prevents children from opening.
Объем 17 мл.
Внимание!!! Краска на основе акрила, не являются морозоустойчивой. Прт оформлении order в зимнее time года с температурой ниже нуля данная краска продается без гарантии возврата в случае утери первичных свойств.