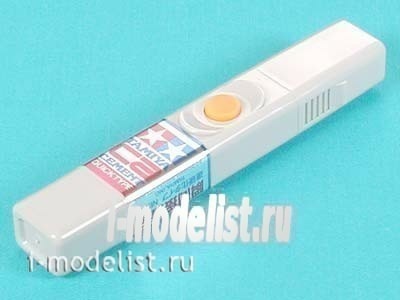 87062 Tamiya CA cement (Quick type) Second glue CA
Vendor code: 87062
Manufacturer: Tamiya
Availability: Are available
Additional Information
Designed for bonding plastic models, metal products, synthetic rubber.

Application:
• Used in the Assembly of scale models, for bonding plastic RC models, etc.
• can Also be used for sports equipment, cars, etc.
Adhesive is convenient to use due to the presence of the dosing button.
two convenient micro-nozzles are also included For gluing small parts.

Preparing the adhesive for use:
1. Open the aluminum foil and pull out the glue and needle cap.
2. Slide the bottom cover all the way into the adhesive body.
3. Tap the spout to let the glue stack down, then pierce the spout with the needle of the cap.
4. While you are not using the glue, insert the cap into the spout and close the lid.
*As there is a possibility of glue leakage, do not hold the open tube to the face and do not press the button on the body.

dosage:
1. Remove dust and grease particles from the surface to be glued and dry it.
2. Click on the button on the body and squeeze the glue on one of the surfaces, then immediately attach another surface and press firmly. If you are gluing small parts, use micro-nozzles.
3. After use, wipe the spout of the tube of glue, stick the cap, and then close the lid. Store in a cool place protected from light, avoiding heating.

do Not use when gluing polyethylene, nylon, polypropylene, silicone, glass, leather, etc. When gluing porcelain and faience products, you should know that the glue can be absorbed by the material.
* Not recommended when gluing expensive and easily damaged items.
* When using an excessive amount of glue in the joints, the surfaces to be glued may turn white.
* When using excess adhesive when bonding acrylic, styrene, polycarbonate, ABS, etc., the adhesive surface may crack or damage.
* If the surfaces to be glued are very small, bonding may not be strong enough.
---
Related Products
---
You watched recently