1421 Amodel 1/144 Antonov An-74
Notice
Vendor code:
1421
Manufacturer:
Amodel
Availability:
Not available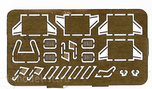 Additional Information
the An-72 military transport correctively slopet created by ANTK im.O. K. Antonov. The aircraft provides cargo delivery by parachute, without parachute and landing methods with the possibility of operation on unpaved airfields. In the rear fuselage is a cargo hatch, closing the ramp. For loading and unloading the onboard loading and unloading device with a loading capacity of 2500 kg and the removable roller equipment for dumping of loads on parachutes is used. In 1983-1986 in OKB of O. K. Antonova was created sampati EN-71 and EN-72Р with a special electronic oborudovniya, An-72П patrol variant with the cannon GSH-23L, two blocks neupravlyaemyh missiles and four bombs caliber 100 kg and An-74 polar aviation length. In 1992-1995, the An-74 aircraft modifications for flights on international routes were built and certified: An-74-200 with a take-off weight of 36.5 tons; An-74T-100- "truck" with a maximum commercial load of up to 10 tons. Today more than one hundred and fifty An - 72/74 aircraft and its modifications are operated in the world.
model Length: 195 mm.
Wingspan: 220 mm.
Number of parts: 64.
The set includes: sprues - 9 (1 - transparent), photo etching - 1, decal - 1, Assembly instructions - 1, packing box - 1.
The recommended paints
| | |
| --- | --- |
| | Белый глянцевая (White) |
| | Светло-серый (Light Grey) |
| | Сталь (Steel) |
| | Черный глянцевая (Black) |
| | Алюминиевый (Aluminum) |
| | Средне-серый (Medium Gray) |
| | Красный глянцевая (Red) |
Caution! Glue and paints are not included.
The configuration and appearance of the model are subject to change without notice.