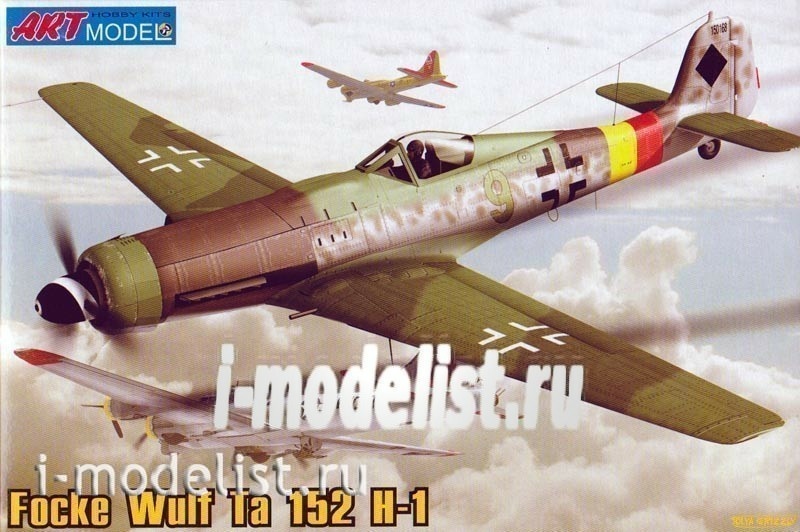 7204 ART-model 1/72 Focke-Wulf Ta-152 H-1
Vendor code: 7204
Manufacturer: ART-model
Availability: Not available
Additional Information
the Chief designer of the company "Focke-wolf" Kurt Tank in 1942 developed on the basis of "Fw-190" several prototypes designed for action at high altitudes. The TA-152 fighter was intended mainly for intercepting high-altitude bombers and reconnaissance aircraft of the enemy.
Designers "Focke-wolf" constantly engaged in improving TA 152N. So, when tested Fw 190D found that the simple use of rubber gaskets at the junction of Motorboats gives an increase in the speed of the aircraft at 17 km/h. This, of course, could be applied to The 152, which began to develop a special "integral hood". On That 152 intended to deliver a more powerful engine Jumo 222E and a new wing with a laminar profile. But by the very end of the war, it became clear that The 152 with Jumo 222 will remain only a project. Priority was given to jet aircraft.
Just before the end of the war was tons 67 aircraft TA-152 various modifications. According to its tactical and technical characteristics, this aircraft was the pinnacle of the Fw-190 fighter family.
Caution! Glue and paints are not included.
The configuration and appearance of the model are subject to change without notice.
---
Related Products