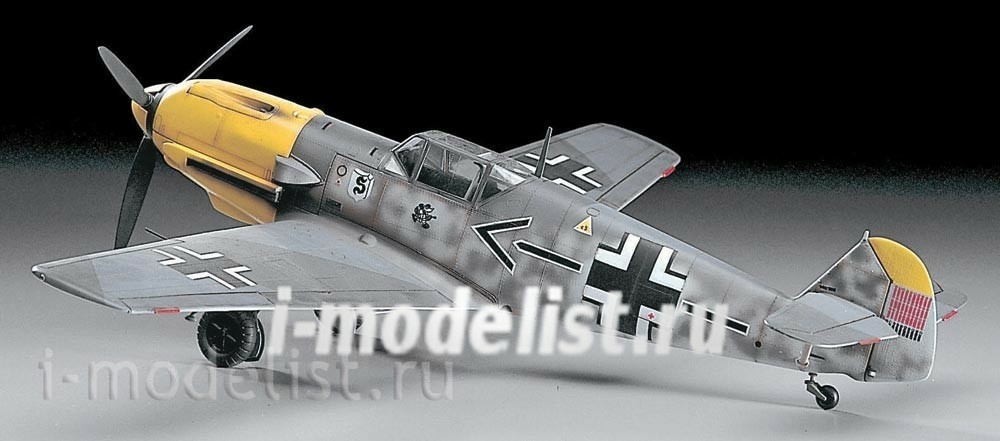 08051 Hasegawa 1/32 Messerschmitt Bf109E
Vendor code: 08051
Manufacturer: Hasegawa
Availability: Are available
Additional Information
the Main German fighter of the outbreak Of world war II Bf 109E ensured the success of the Luftwaffe over Poland, Scandinavia and northwestern Europe between September 1939 and June 1940. Its shortcomings were revealed only when the aircraft had to make further raids against the British fighters in the "Battle of Britain". Entered service in late 1938 and released in an amount of more than 4000 cars, Bf-109E ("Emil") was the same Bf-109D, but with a stronger engine DB-601 and cannon armament.
DB 601 had almost the same dimensions as DB 600. Cylinders and pistons remained unchanged. The carburetor of the first was replaced by direct fuel injection on the second. The compression ratio was increased from 6.5 to 6.9, the boost was increased, and the supercharger received an automatic boost control system using a fluid coupling. Direct fuel injection reduced its consumption, allowed the use of gasoline with a lower octane number and, unlike the carburetor, allowed the motor to work for a long time at negative overloads.
Of the early versions of this aircraft were the main Bf 109E-1 with 1075-horsepower engine DB 601A-1, Bf 109E-3 with a more powerful engine, improved armor and space for 20-mm guns in the collapse of the engine cylinders, as well as Bf-109E-4 (without a motor gun). Pilots considered "Emil" one of the best models of Bf 109, at least equal to the early models of "Spitfire".
Armament: Me 109E - two 20mm mg/FF wing guns with 60 rounds of ammunition and 2 X 7.92 mm mg-17 machine gun with 500 rounds of ammunition per machine gun.
During the invasion of the Soviet Union in June 1941, the "Emil" was already removed from service, the fact remains that for several months over the Soviet Union and flew the Bf 109E. We know, for example that JG 54 and SG assault squadron 1 fought at this theatre on Bf.109E.
Number of parts: 88.
Caution! Glue and paints are not included.
The configuration and appearance of the model are subject to change without notice.
---
Additionally, we recommend also purchasing
---
Related Products
---
You watched recently