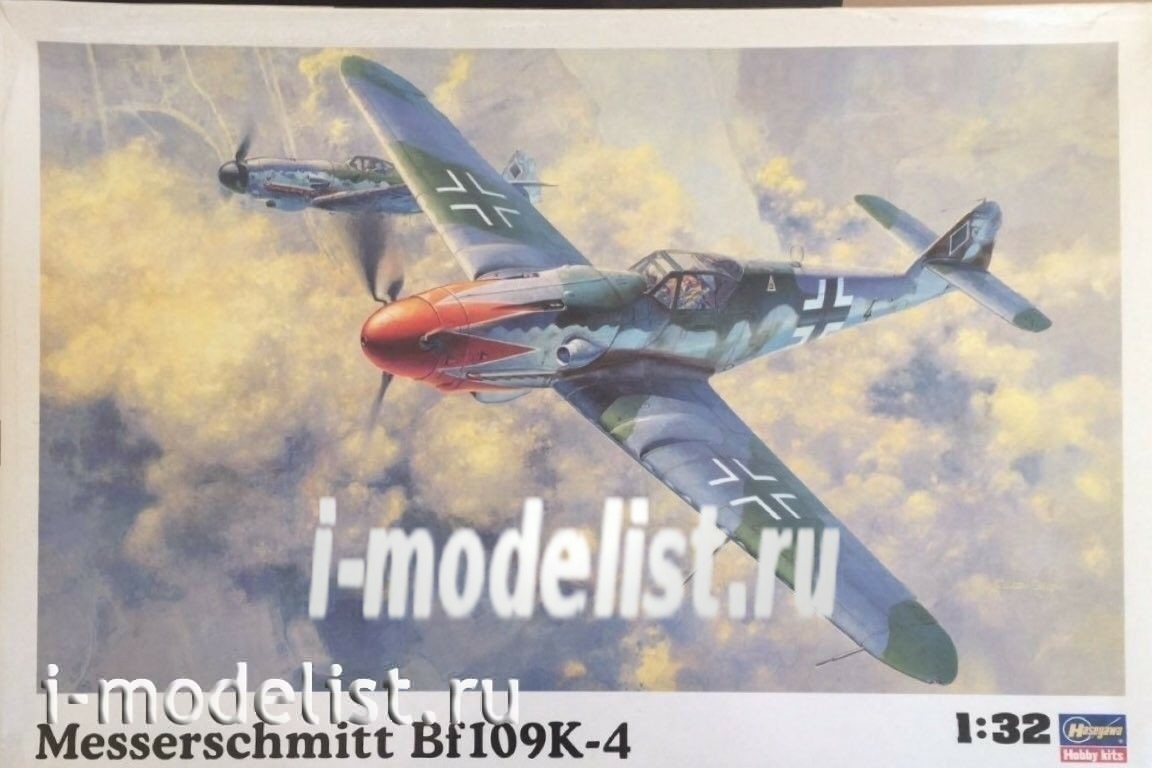 08070 Hasegawa 1/32 Messerschmitt Bf109K-4 Aircraft
Vendor code: 08070
Manufacturer: Hasegawa
Availability: Are available
Additional Information
Bf.109K (Elector*) (the letter I, the Ministry of aviation did not use, but J was rated modification fighter with an engine Hispano-Suiza), was a modified version of Bf.109G-10, which received a number of factory-installed kits used on g-series aircraft and some aerodynamic improvements.
the First pre-production Bf 109K-0 - appeared in September 1944 and differed from the last modification of the series G increased hood height, elongated cook and two trimmers on the rudder. The plane was put the so-called lantern "Galland", wooden keel, retractable tail wheel on an elongated rack. Armament consisted of a motor 30-mm gun MK 108 and two 15-mm guns MG 151 on the fuselage, and half open. If the pre-production Bf 109K-0 were equipped with 605db DB engines with afterburner GM 1, the serial received DB 605ASCM or DB 605DCM - the latter with GM 1. The first aircraft came off the Assembly line in October 1944, It was the model Bf 109K-2 and K-4, characterized only by the sealing of the cabin on the latter.
the Last aircraft of the K-4 series received a 30-mm MK-103 gun instead of the MK-108 engine, but the 65-mm cover covering the barrel of the gun made the replacement of the latter in the field a non-trivial task. The MK-103 gun was also mounted on the Bf.109K-6, whose main task was to fight the bombers, for which he carried two 30-mm MK-103 in underwing gondolas, however, the fuselage MG.151 were again replaced by 13-mm mg machine guns.131. Supplies Bf.109K-6 in the fighter group began in January 1945, until the collapse of the "third Reich" received only a few such machines – given that its takeoff weight (3600 kg) were so poorly managed, it really was happiness for Luftwaffe pilots in the complete superiority of the allies in the air.
Caution! Glue and paints are not included.
The configuration and appearance of the model are subject to change without notice.
---
Additionally, we recommend also purchasing
---
Related Products
---
You watched recently