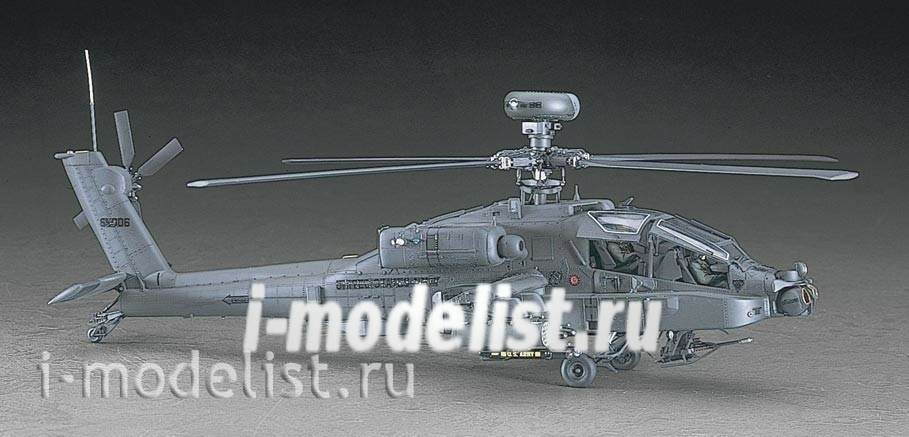 07223 Hasegawa 1/48 Ah-64D Apache Longbow Helicopter
Vendor code: 07223
Manufacturer: Hasegawa
Availability: Are available
Additional Information
the Helicopter is designed for assault operations on manpower and military equipment of the enemy. He made his first flight on September 30, 1975. When developing the machine designers have tried to take into account all the wishes of the army pilots. In Vietnam, combat helicopters suffered combat losses mainly from small arms and small-caliber anti-aircraft guns, so when creating the an-64, much attention was paid to booking. Its hydraulic and electrical systems have double or triple redundancy, the rotor can withstand a 23 mm anti-aircraft projectile, the engines and transmission are protected by Kevlar armor from the fire of 12.7 mm machine guns. Light armor based on boron, protecting the cockpit from the bottom and sides, can withstand a hit of 12.7 mm bullets and 23 mm shells. The design of the chassis allows you to land when hitting the ground at a speed of up to 13m/sec. AH-64 onesheets powerful mercury lamp confusing homing and guns for shooting infrared traps. The main purpose of the "Apache" is to combat enemy tanks, both in the daytime and at night at a range of up to 8 km. on this Basis, the helicopter was equipped with the latest optical-electronic sighting system TADS/PNVS. Helicopter armament consists of a 30-mm automatic gun M-230 "Chine gun" with ammunition 1200 rounds and supersonic ATGM "Helfayr" with a laser guidance system, a range of 5 km, which bypasses armor to 1090 mm. For area targets can be used unguided rockets caliber 70 mm to 76штук.The static ceiling of 3100 m allows to conduct military operations in the highlands and in the conditions of hot climate. The main tactical feature of the combat use of the helicopter is to perform flights at low and extremely low altitudes with the envelope of the terrain, the ability to perform anti-aircraft maneuvers, the ability to quickly go for the nearest shelter, flying tail back or sideways. Takeoff and landing of the helicopter can be carried out from sites with an angle of up to 15 degrees in the longitudinal and transverse direction. A feature of the control system is the presence of digital automatic stabilization equipment that facilitates piloting, especially in difficult situations, such as hanging between trees at night.The helicopter entered service in 1983. It was supposed to build 675 cars, but because of the high cost of the program was reduced, in addition, there was a new modification of the "an-64D" with nadftulochnym radar. In the us army, it was decided to complete the squadrons "Apache" in a mixed composition: 2/3 ordinary "Apache" and 1/3 "AH-64D". The helicopter was adopted in a number of other countries. During operation desert Storm, the new helicopters received good reviews.
Caution! Glue and paints are not included.
The configuration and appearance of the model are subject to change without notice.
---
Additionally, we recommend also purchasing
Not available
Vendor code: FE209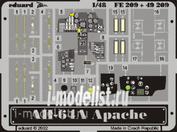 Not available
Vendor code: EX022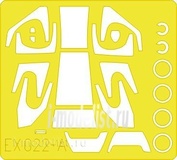 Vendor code: QB48 178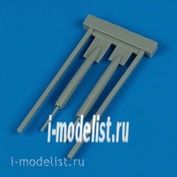 ---
Related Products
---
You watched recently