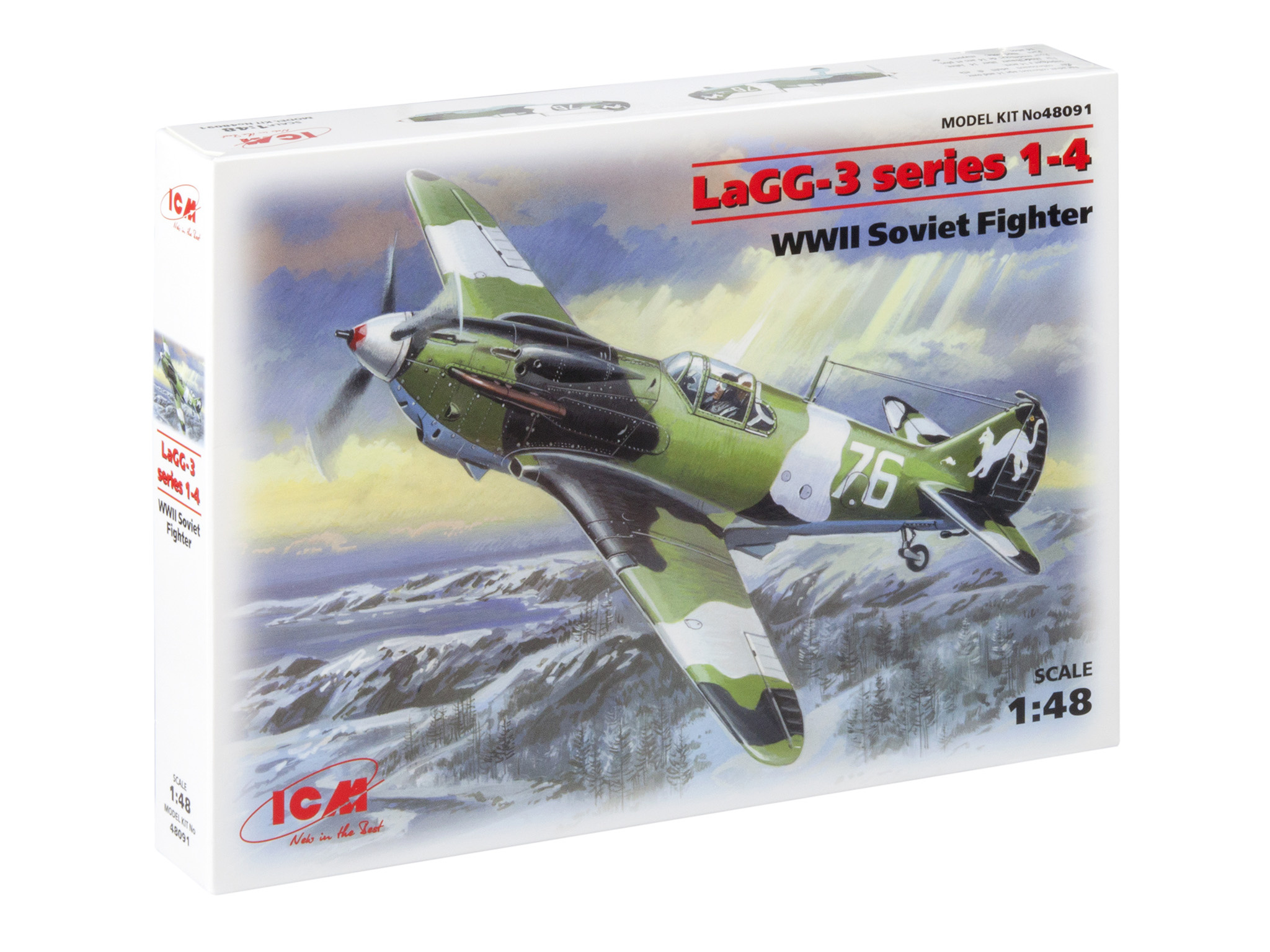 1/48 ICM 48091 LaGG-3 series 1 Soviet fighter of world war 2
Vendor code: 48091
Manufacturer: ICM
Availability: Are available
Additional Information
LaGG-3 belonged to a new generation of Soviet fighters, created on the eve of the great Patriotic war. The first prototype, which received the designation I-301, was made in March 1940. It was designed by the "triumvirate" of designers– S. Lavochkin, V. Gorbunov and M. Gudkov. The main feature of the project was an all-wood construction with the use of "Delta-wood".

Serial production of a new fighter, called the LaGG-3, began in January 1941 at 5 enterprises. The main manufacturer was the plant №21 in Gorky. The aircraft of the first three series were armed with three large-caliber machine guns BS and two machine guns ShKAS.

Since autumn 1942 LaGG-3 has produced only plant No. 31 in Tbilisi. The 35-series aircraft had a VK-105PF engine, weapons from one ShVAK gun and one BS machine gun, supplemented with RS, were equipped with slats, aerodynamic compensation of rudders and a retractable tail wheel.

the LaGG-3 became one of three new types of Soviet fighters. In aerial combat on the Soviet-German front emerged as the dignity of the LaGG-3– design strength, powerful weapons, and disadvantages– low thrust-heavy management. However, in the hands of experienced pilots LaGG-3 was a formidable weapon of air war. These fighters flew many Soviet aces such as heroes of the Soviet Union Galchenko, and L. I. Evteev.

Three captured LaGG-3s also served in the Finnish air force.
Caution! Glue and paints are not included.
The configuration and appearance of the model are subject to change without notice.
---
Additionally, we recommend also purchasing
---
Related Products
---
You watched recently