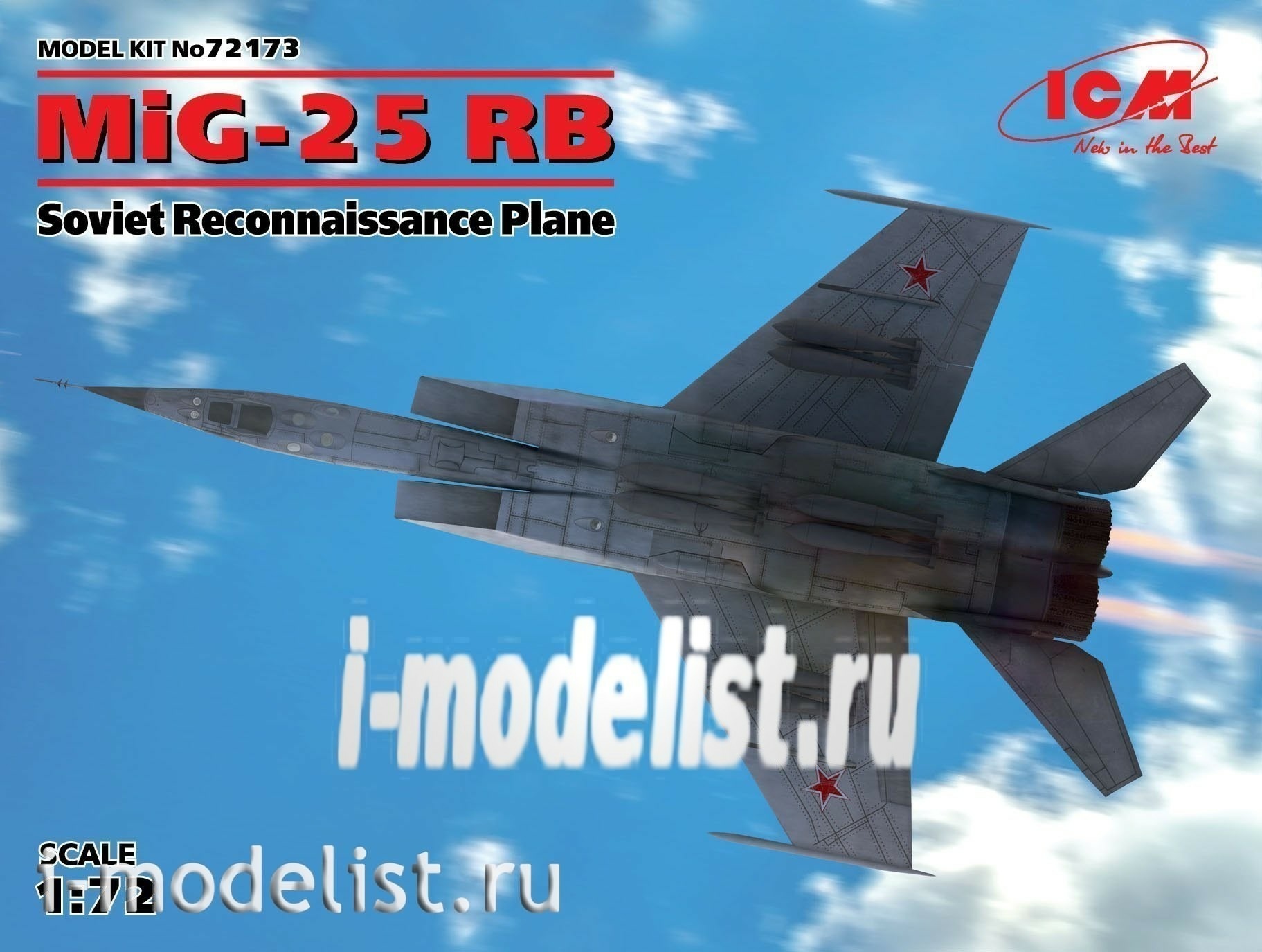 72173 ICM 1/72 MiG-25RB, Soviet reconnaissance aircraft
Vendor code: 72173
Manufacturer: ICM
Availability: Are available
Additional Information
the Mick-25RB was the first in a series of scouts to carry bomb weapons, including nuclear weapons. Maximum mass of bombs. the load was 4000 kg. On 4 beams-holders MBDZ-U2 with locks DZU-1 (2 under the fuselage and 1 under the consoles), the aircraft can carry bombs in the following variants: 4-8 FOTAB-100-80, 8 FAB-500M-62 (or "T" (heat-resistant))) as an option for flights at supersonic speed or 1 nuclear bomb under the fuselage. Further, with the development of the aircraft, its maximum bomb load increased to 5000 kg. At 4 points it was possible to hang 10 fab-500M-62 bombs (6 under the fuselage, 4 under the wings - one after another). However, the operation of the aircraft with such a suspension showed that it is overweight: the ceiling and the maximum speed of the machine fell. When flying at subsonic speeds, the wing was loaded, and at a speed above M=0.9 in severe conditions, there were also air intakes. To preserve the ceiling and reduce the load on the structure tried - with some success - to increase the area of the upper plate of the air intakes.
Caution! Glue and paints are not included.
The configuration and appearance of the model are subject to change without notice.
---
Additionally, we recommend also purchasing
---
Related Products
---
You watched recently