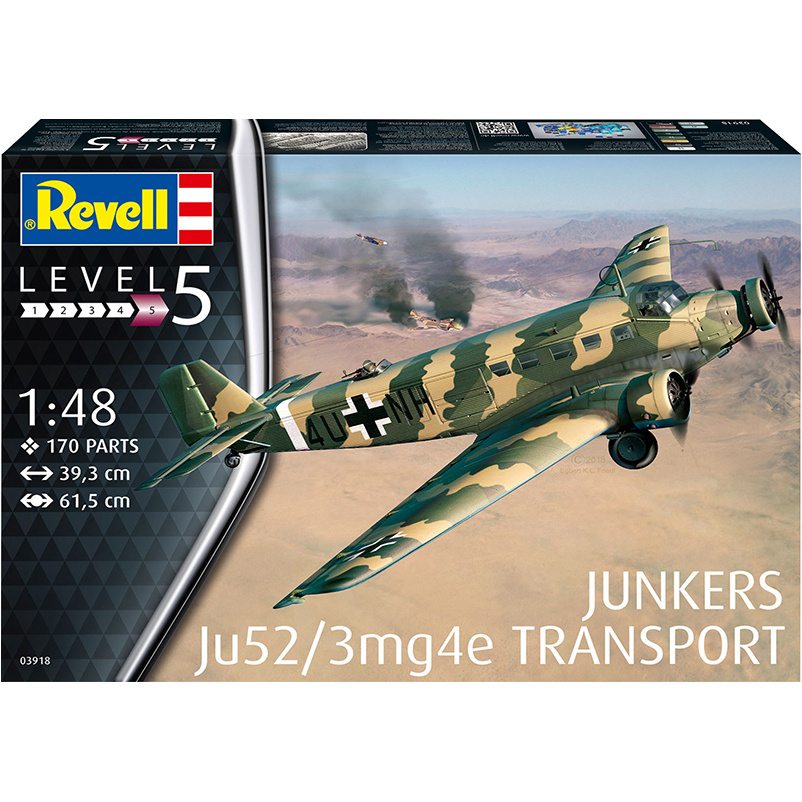 03918 Revell 1/48 Junkers Ju52/3mg4e Transport
Vendor code: 03918
Manufacturer: Revell
Availability: Are available
Additional Information
Ju-52/3m aircraft should be considered real "workhorses" Luftwaffe, they were reliable and unpretentious. After a rather short use as bombers, they regularly transported cargo and troops, were used to tow gliders and to search for sea mines. they Played a very important role in the largest airborne operations conducted by Germany. In this transport squadron Luftwaffe sometimes suffered losses that were quite comparable to the losses of combat squadrons. Thus, only during the landing operation "mercury" on the island of Crete of the 493 involved in it Ju-52/3m the Germans lost 174 machines. In turn, the supply by air surrounded in Stalingrad, the 6th German field army, part of the transport squadrons of the Luftwaffe was almost completely destroyed.
it is Worth noting that despite its rather archaic design, the aircraft proved to be very simple and reliable in operation. Known case, when 16 February 1937 one Ju.52/3m withstood 24 attacks from Republican fighters And-15 and only after that was shot down. Ju.52/3m was easy to maintain and operate. Reliable chassis of the machine and its low landing speed allowed to operate the aircraft not only from concrete airfields, but also from the ground. Along with the rather obvious advantages, which included high manufacturability and structural strength, good handling and stability in the air, the ability to use from field airfields, Ju-52/3m had no less obvious disadvantages – a small flight speed (due to non-retractable landing gear and corrugated skin), as well as the inability to transport large cargoes and small military equipment. Despite this Ju.The 52/3m was used on all fronts of world war II as long as it was possible.
The recommended paints
| | |
| --- | --- |
| | Белый матовая (Flat White) |
| | Черный матовая (Flat Black) |
| | Желтый матовая (Flat Yellow) |
| | Зеленый матовая (Flat Green) |
| | Темно-зеленый матовая (Dark Green) |
| | Серо-зеленый (Gray Green) |
| | Коричневый матовая (Flat Brown) |
| | Чёрный металлик (Metallic Black) |
Caution! Glue and paints are not included.
The configuration and appearance of the model are subject to change without notice.
---
Additionally, we recommend also purchasing
---
Related Products
---
You watched recently