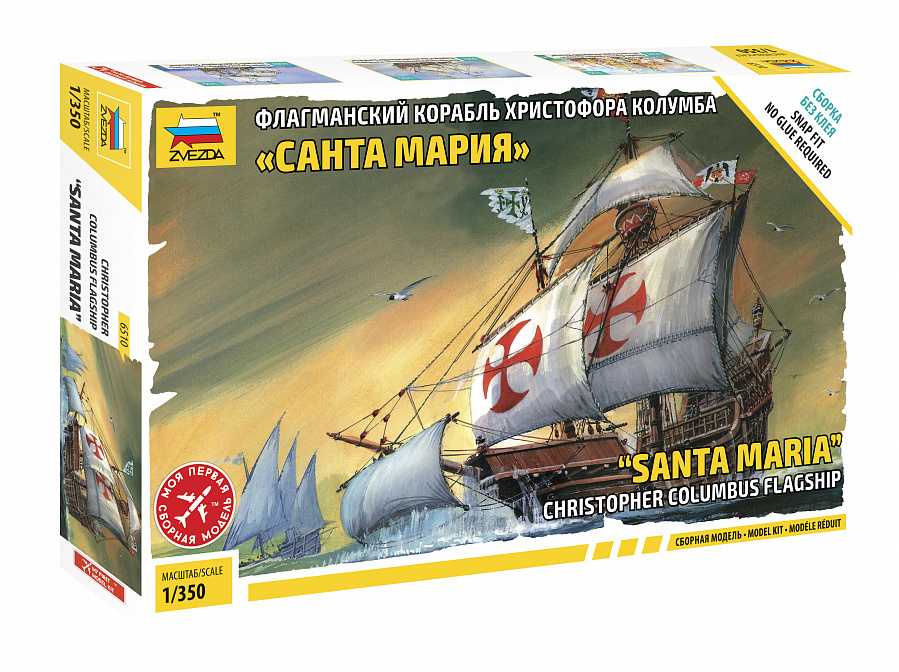 6510 Zvezda 1/350 Flagship of Christopher Columbus "Santa Maria"
* цена для розничных клиентов магазина
Vendor code: 6510
Manufacturer: Zvezda
Availability: Are available
Additional Information
on 3 August 1492, the first expedition commanded by Christopher Columbus set out from the port of Palos in search of new routes to India. It consisted of three vessels: "Santa Maria", "Pint" and "ninya".
"Santa Maria" - the flagship of the great discoverer is probably the most famous sailing ship of the era of Great geographical discoveries. Armament of the ship were guns (four 20-pound, six 12-pound, eight 6-pound), as well as several springals and mortars and about a hundred heavy muskets. The exact drawings of the vessel have not survived, and we can only talk about the estimated size of the vessel: length - 23m, width - 6.7 m, draft - 2.8 m, displacement - 237t. "Santa Maria" is often called a Caravel, although the sailing armament of the ship consists of a straight grotto, a straight fork and trapezoidal topsails under them, a slanting sail on the bizani and a blind on the bowsprit, and it is more correct to call it Karaka.
Assembly is carried out without glue.
---
Related Products
---
You watched recently