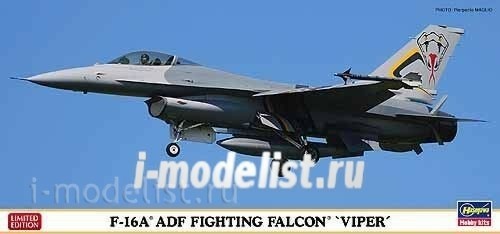 01980 Hasegawa 1/72 General-Dynamics F-16A ADF Fighting Falcon "Viper"
Vendor code: 01980
Manufacturer: Hasegawa
Availability: Are available
Additional Information
In 1973, an American company known as the Creator of the F-111 and YF-22 aircraft seems to have realized the long-standing dream of aircraft designers: to design the lightest and at the same time the most thrust-armed fighter. Things went quite well. In 1974, the YF-16 prototype was already fully developed, which served as the basis for the first production version of the F-16A, built in 1976, and an even more advanced model of the F-16C, which appeared in 1984. the Construction of The "Fighting Falcon" (in translation - "combat" or "fighting Falcon"), along with aerospace projects, became for General dynamics one of the priority programs for the 1980s and 1990s. Until 1994, more than 4,000 of these highly maneuverable and well-armed vehicles were built, which, according to experts, have excellent tactical and technical data.
Like many Soviet machines, high LTH F-16 achieved primarily due to the very high thrust-to-weight ratio. The powerful Pratt Whitney engine with a thrust of 11340kgs with an average take-off weight of 10000kg provides this figure of the order of 1.13 units and allows the car to develop a speed of up to 2 M. The F-16 aircraft has a very compact electronic system, perfect sighting equipment, a diverse set of hanging tanks that allow reaching a flight range of up to 3700 km. In addition, it has powerful weapons: under the fuselage and wing can be placed up to 50 different types of bombs and missiles.
Caution! Glue and paints are not included.
The configuration and appearance of the model are subject to change without notice.
---
Additionally, we recommend also purchasing
---
Related Products
---
You watched recently