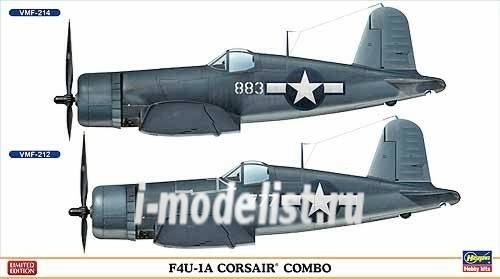 02032 Hasegawa 1/72 Vought F4U-1A CORSAIR COMBO (two models in box)
Vendor code: 02032
Manufacturer: Hasegawa
Availability: Are available
Additional Information
Due to its "battery" of guns, in the battles in "Le Corsaire" has achieved the ratio of wins to losses is 11:1. Anti-aircraft bombs were also removed, and the window at the bottom of the fuselage disappeared after the release of a small number of production vehicles. The cabin received a reservation that protected the pilot and the oil tank. In addition, behind the windscreen installed bulletproof glass 38 mm thick. Firm Pratt-Whitney continued to improve its engines series R-2800, and F4U-1 "Corsair" received one of the latest modifications – R-2800-8 power 2000 HP This allowed the fighter to reach a maximum speed of 684 km/h.
the design of the cockpit canopy underwent a Change, which made it more spacious, allowing the pilot to look around, and reduced the number of metal binding elements. In addition, the cabin introduced additional glazing – "ears", improve the review back. The composition of the instrument equipment of the cabin was audited. Improved the design of landing flaps, ailerons and brake hook. Under each wing console installed on the bomb holder for small-caliber bombs. In the first production machines sash of the cooling system surrounded the whole hood the diameter. Because of the constant problems with leaks from the hydraulic system, leading to splashing of the windshield, the upper flaps were made stationary, fixing them in the closed position.
the First fleet unit to receive the F4U-1 was the VF-12 squadron in North island, California, followed by the VF-17 in Norfolk, Virginia. The first in the aviation Corps of the US Marine Corps received the "corsairs" the squadron VMF-124. Despite the high speed and maneuverability of the "Corsair", the Fleet was disappointed by the fighter after deck tests on the aircraft carrier, which revealed a number of unpleasant features of the behavior of the machine upon landing. The tendency to collapse on the left wing was quite dangerous when landing on coastal airfields and completely unacceptable when landing on an aircraft carrier. This disadvantage, together with the tendency of the aircraft to "kozlany" and the inability to land on three points (long nose part closed pilot review to come) has led to the fact that the fighter was not fit for operation from the deck. The company was looking for solutions to these problems and eventually found them, but at that time F4U - 1 was "sentenced" to operation only from coastal airfields. Fortunately the "loss" of the Fleet, proved to be a boon for Marine Corps – most of the early "Le Corsaire" were used in his aircraft.
Caution! Glue and paints are not included.
The configuration and appearance of the model are subject to change without notice.
---
Related Products
---
You watched recently