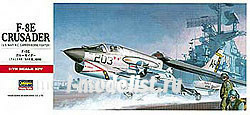 Additional Information
F-8E Crusader was the last modification of the Crusader family. This machine in its characteristics surpassed even the F-4 Phantom II - aircraft, which is considered to be the standard fighter. However, the company Vought received a contract for the production of only 286 aircraft. The contract was largely facilitated by the installation of an/APQ-94 Magnavox radar. On the f-8E aircraft, a Doppler sighting and navigation system with a digital computer is installed Over the enlarged fairing of this radar, a thermal radiation detector AAS-15 is mounted, aiming infrared missile guidance heads at the target. In addition, the aircraft is equipped with two powerful underwing pylons for guided air-to-ground missiles and a guidance system for these missiles mounted in the dorsal blister. For eight years, the company Vought has released 1261 car family Crusader. The last batch of 48 aircraft F-8E (FN) was released in 1965 year for France. French "Crusaders" are based on aircraft carriers "Foch" and "Clemenceau". 
Caution! Glue and paints are not included.
The configuration and appearance of the model are subject to change without notice.
---
Additionally, we recommend also purchasing
Not available
Vendor code: QB72 406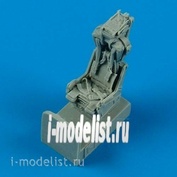 ---
Related Products