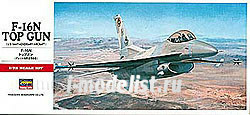 00342 Hasegawa 1/72 F-16N Top Gun
Vendor code: 00342
Manufacturer: Hasegawa
Availability: Are available
Additional Information
the Prototype of the new fighter, developed by General Dynamics, was called the YF-16, it first took off in 1974. A year later, the aircraft was declared the winner of the competition, it was given the designation F-16A. However, his competitor was also not offended: the project of the company Northrop became the basis for the creation of a deck fighter-bomber F/A-18 Hornet.
Until 1978 years continued flight tests of the F-16A, in the middle of this year begins mass production of these aircraft. Until 1980, 650 cars were produced. In addition to the US air force F-16 interested and American allies, first European, and then the middle East. The first 116 units of F-16 purchased from Belgium, then over hundreds of machines were purchased for the air force of the Netherlands. Very quickly, the new American car became interested in Iran, Jordan and Israel.
To date, the f-16 Fighting Falcon fighter is the most massive combat aircraft in the world, it has been adopted in 25 countries, most of them this machine is the basis of fighter aircraft.
Caution! Glue and paints are not included.
The configuration and appearance of the model are subject to change without notice.
---
Related Products
---
You watched recently