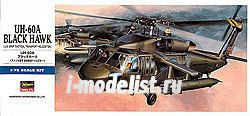 Additional Information
UH-60 Black Hawk is a multipurpose helicopter created by the American company Sikorsky. The helicopter is in service with the American army, where he replaced the famous Bell UH-1, which is one of the symbols of the Vietnam war. The new rotorcraft was designed to transport 11 soldiers in full gear. The prototype of the helicopter took to the sky on October 17, 1974, and on December 23, 1976 the helicopter became the winner of the competition announced by the military and was put into mass production. The helicopter is still produced. Since 1977, more than 4,000 uh-60 Black Hawk helicopters of various modifications have been produced.
Caution! Glue and paints are not included.
The configuration and appearance of the model are subject to change without notice.
---
Related Products