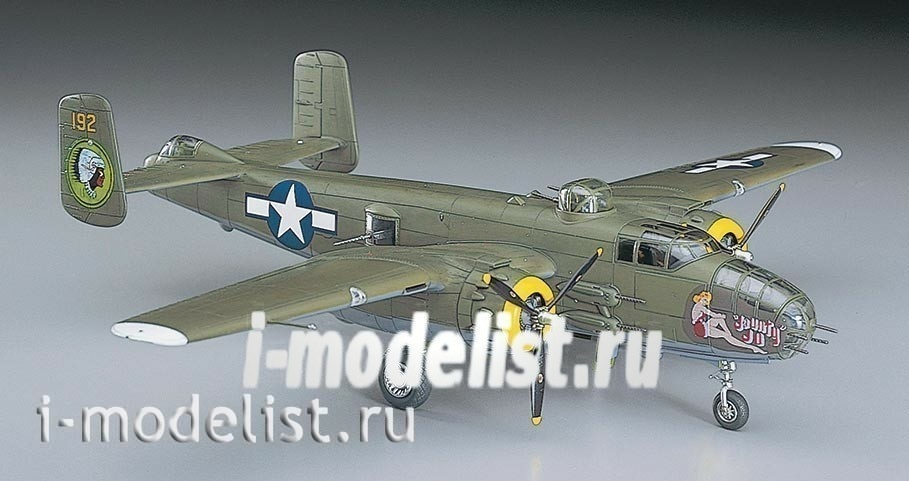 00546 Hasegawa 1/72 B-25J Mitchell
Vendor code: 00546
Manufacturer: Hasegawa
Availability: Are available
Additional Information
the Last serial modification of the bomber was the B-25J (NA-108). It was the largest-scale modification of the B-25, produced in the amount of 4390 pieces (including 72 unfinished machines). Production of B-25J aircraft deployed in Kansas city, while the plant in Inglewood, having completed the production of B-25N, began to produce fighters R-51 "Mustang". The plant in Kansas city simultaneously produced b-25D and J. the First bomber of the new modification was assembled in December 1943, while the last B-25D was ready in March 1944.
the First B-25J (43-3870) appeared on the Assembly line in the autumn of 1943. The aircraft was created on the basis of B-25N. This was the return of the aircraft In-25 "Mitchell" its original role - the average bomber. The aircraft received back the place of the Bombardier and glazed nose fairing, which was one fixed and one induced 12.7-mm machine gun. The rest of the fuselage was like a B-25N. The upper turret was immediately behind the cockpit, in the tail there was another firing point. On the sides of the fuselage in the Windows covered with fairings stood another machine gun. Two machine guns placed under the cockpit, as in the last B-25N. The cockpit seat was returned to the co-pilot, and the onboard firing points were equipped with stoves. The crew consisted of six people: two pilots, Bombardier-Navigator-arrow mechanics-tower shooter, radio operator-rear gunner, tail gunner. Bomb racks and bomb Bay doors had an electric drive. The usual bomb load consisted of three 454-kg bombs, although two 726-kg armor-piercing bombs could be taken as an alternative. The aircraft could also take a torpedo Mk 13 weighing 907 kg. in Addition, under the wings provided suspension for six 147-kg bombs.
Caution! Glue and paints are not included.
The configuration and appearance of the model are subject to change without notice.
---
Additionally, we recommend also purchasing
---
Related Products
---
You watched recently