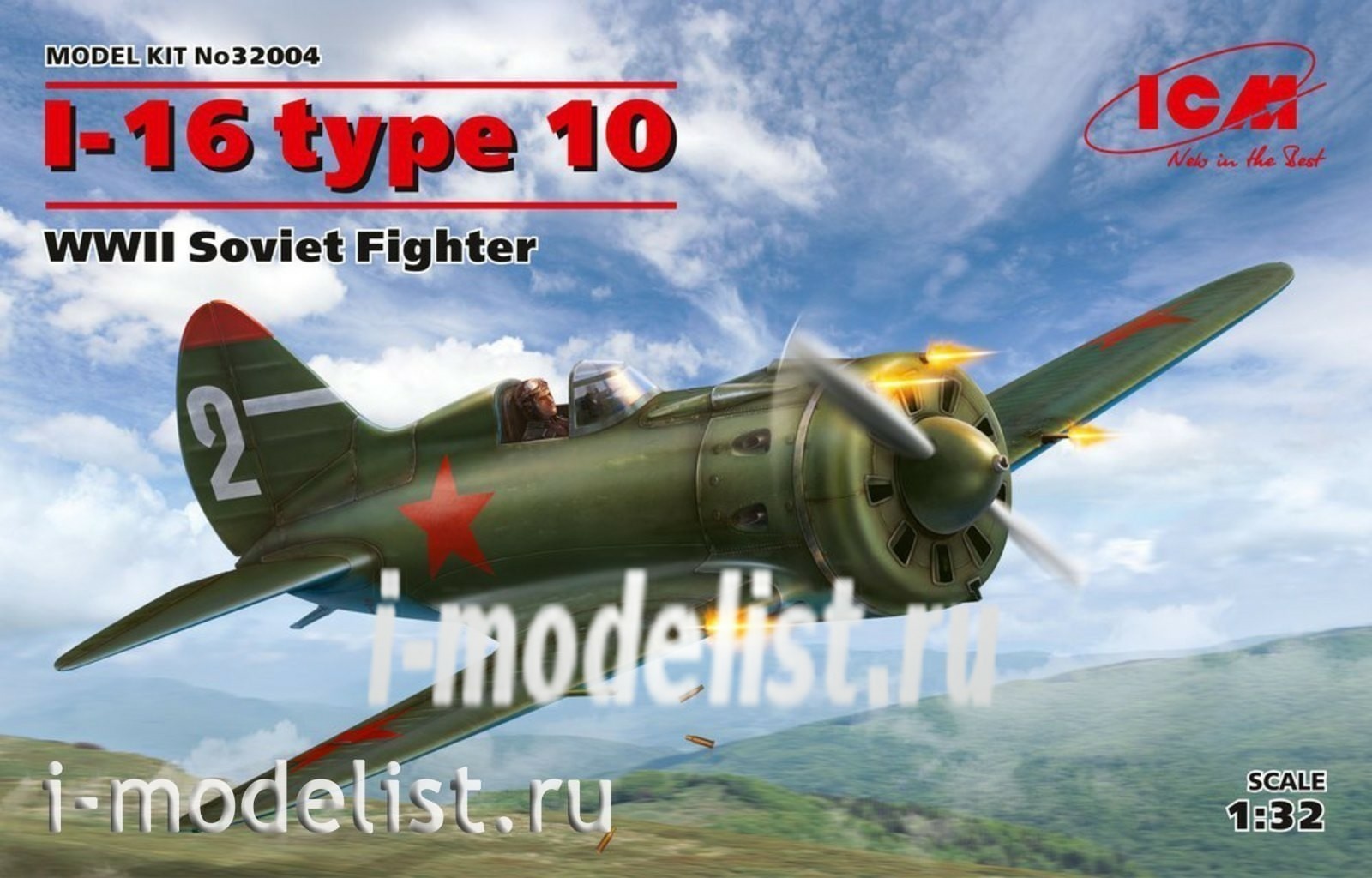 32004 ICM 1/32 Soviet fighter I-16 type 10
Vendor code: 32004
Manufacturer: ICM
Availability: Are available
Additional Information
This aircraft was a major modification of the I-16 after three years of serial production and had the following main differences:
Delivered engine M-25V increased power.
Armament was supplemented by two upper synchronous machine guns "ShKAS", enclosed in projecting fairings.
the Sliding lamp is replaced by a fixed visor with a stainless steel frame.
Optical sight OP-1 ("Aldis") replaced by a collimator sight PAK-1.
the Airframe has undergone significant changes. The lining of the wing with duralumin increased to 44.5% from top and 14.5% from the bottom. The number of ribs on the upper surface of the wing is increased.
Removed the mechanism of unresponsiveness of the ailerons. Reducing the landing speed is achieved by installing landing flaps. In this regard, the scope of the ailerons decreased. Most of the type 10 aircraft were produced with landing flaps opened with the help of an air system. Since the spring of 1939, with the aircraft No.102175 mechanical release of landing flaps is put.
Strengthening the airframe in accordance with the strength standards of 1937 year affected the strengthening of aircraft control. A new, more durable control handle is supplied.
the oil system is Changed, the oil cooler with a diameter of 6 inches is delivered. In this regard, in the lower part of the hood there was a supply pipe of high-speed head for cooling the radiator.
Caution! Glue and paints are not included.
The configuration and appearance of the model are subject to change without notice.
---
Additionally, we recommend also purchasing
---
Related Products
---
You watched recently