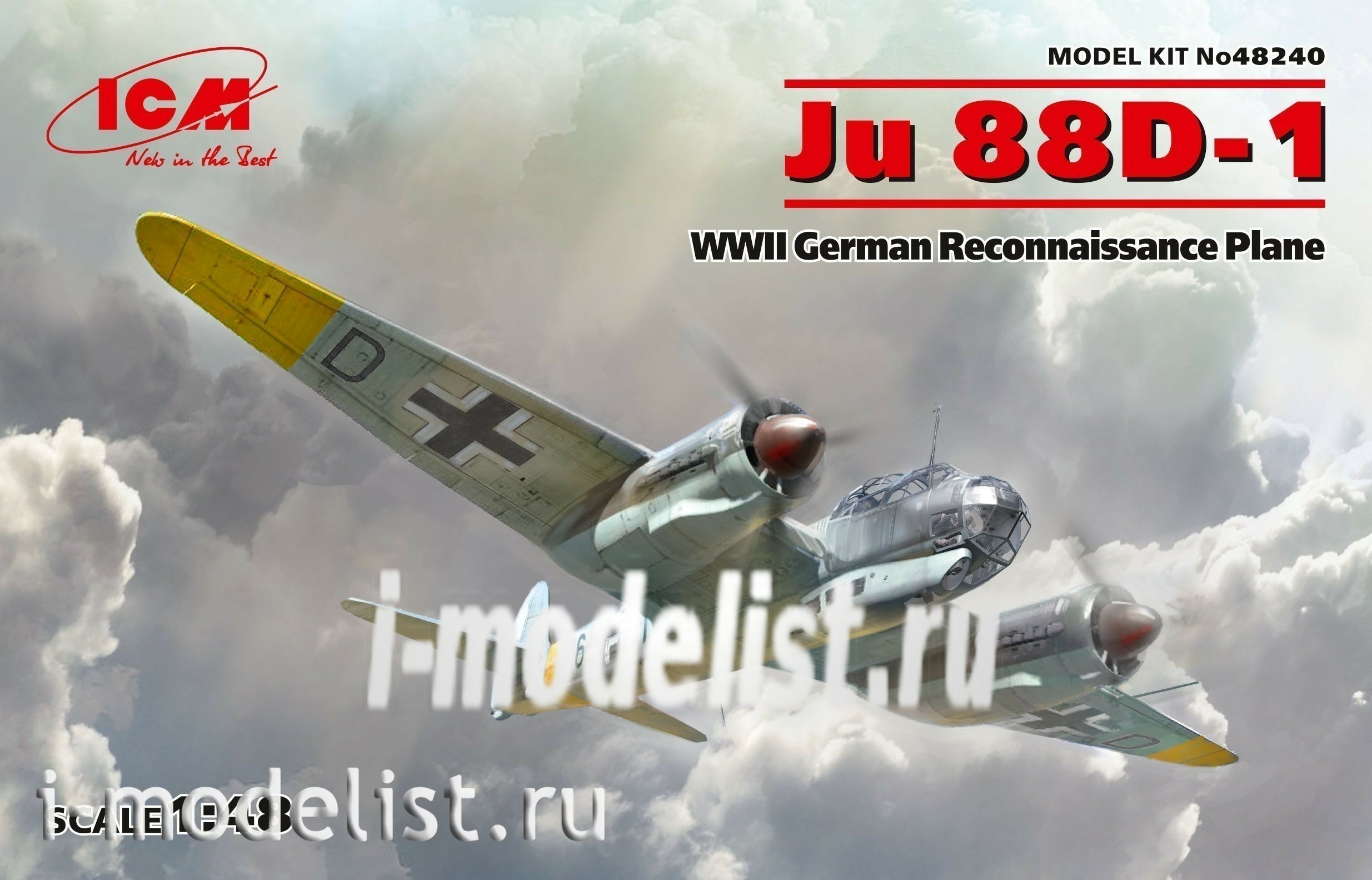 48240 ICM 1/48 German reconnaissance aircraft Ju 88D-1
* цена для розничных клиентов магазина
Vendor code: 48240
Manufacturer: ICM
Availability: Are available
Additional Information
In mid-1940, the Luftwaffe command and the design team of Junkers began to create a reconnaissance modification of the Ju 88. The new machine was to replace the Dornier Do 17P aircraft, which at that time was used for reconnaissance. Created on the basis of Ju 88A reconnaissance aircraft assigned the designation Ju 88D. Even before the serial production of machines Ju 88D, hastily converted into scouts a number of bombers. Converted machines were designated as Ju 88A-1(F) and Ju 88A-5(F) (letter F - abbreviated Fernaufklaerungs (long-range exploration)). With redesigned aircraft removed internal and external bomb racks and air brakes. The four-leaf bomb Bay doors were replaced with double-leaf. Two cameras were installed in the left part of the rear bomb Bay, and one in the right part. An additional fuel tank with a capacity of 1450 liters was placed in the front bomb Bay. In addition to the three cameras mounted in the bomb Bay, in the cockpit placed a small hand-held camera.
the First converted from bombers scouts have risen in build in 1940 year.
In 1940, German aircraft manufacturers produced 330 reconnaissance Ju 88D. Reconnaissance equipment consisted of a camera Robot Rb 50/30 or Rb 70/30 designed for shooting from great heights and Rb 20/30 cameras used for photography from low altitude.
Different versions of the Ju 88D was not significantly different from each other according to the method of installation of the equipment. On the Ju 88D-0 and early Ju 88D-1, the camera lenses supported the body contours and were covered by an anti-glare system. On airplanes Ju 88D-2 and Ju 88D-4 lenses for the contours of the fuselage did not act.
Caution! Glue and paints are not included.
The configuration and appearance of the model are subject to change without notice.
---
Additionally, we recommend also purchasing
---
Related Products
---
You watched recently