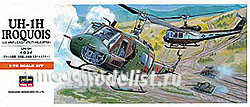 00141 Hasegawa 1/72 Helicopter UH-1H Iroquois
Vendor code: 00141
Manufacturer: Hasegawa
Availability: Are available
Additional Information
the Success of the Bell UH-1A/B Iroquois proved conclusively that there were few errors in the basic design of these helicopters. A specially dedicated uh-1A/B helicopter was continuously improved and equipped with more and more powerful engines. In the early 1960. bell company offered an improved version of the design of the helicopter Model 204 with a longer fuselage, an additional seat in the cockpit, providing accommodation for the pilot and 14 soldiers, or six stretchers, or up to 1814 kg of cargo. In July 1960. The us army has signed a contract with Bell for the supply of seven such helicopters for testing. They had the army designation YUH-1D, and the manufacturer were designated as Bell Model 205. The first of these helicopters took off on August 16, 1961. and after successful flight tests it was put into mass production.
the First helicopter, designated UH-1D Iroquois, was delivered on 9 August 1963. The power plant of this type of machines was the avco Lycoming T53-L-11 turboshaft engine with a shaft capacity of 820 kW; the standard fuel capacity of 832 liters could be supplemented by two internal auxiliary fuel tanks, resulting in a maximum fuel reserve increased to 1968 liters. Large-scale production of uh-1D helicopters was deployed for both the us Army and the armed forces of other countries; 352 helicopters were built under license by Dornier in Western Germany. Behind the helicopter UH-1D was put into production identical to his UH-1H with the engine Avco Lycoming T53-L-13 1044 kW shaft power.
Caution! Glue and paints are not included.
The configuration and appearance of the model are subject to change without notice.
---
Related Products
---
You watched recently