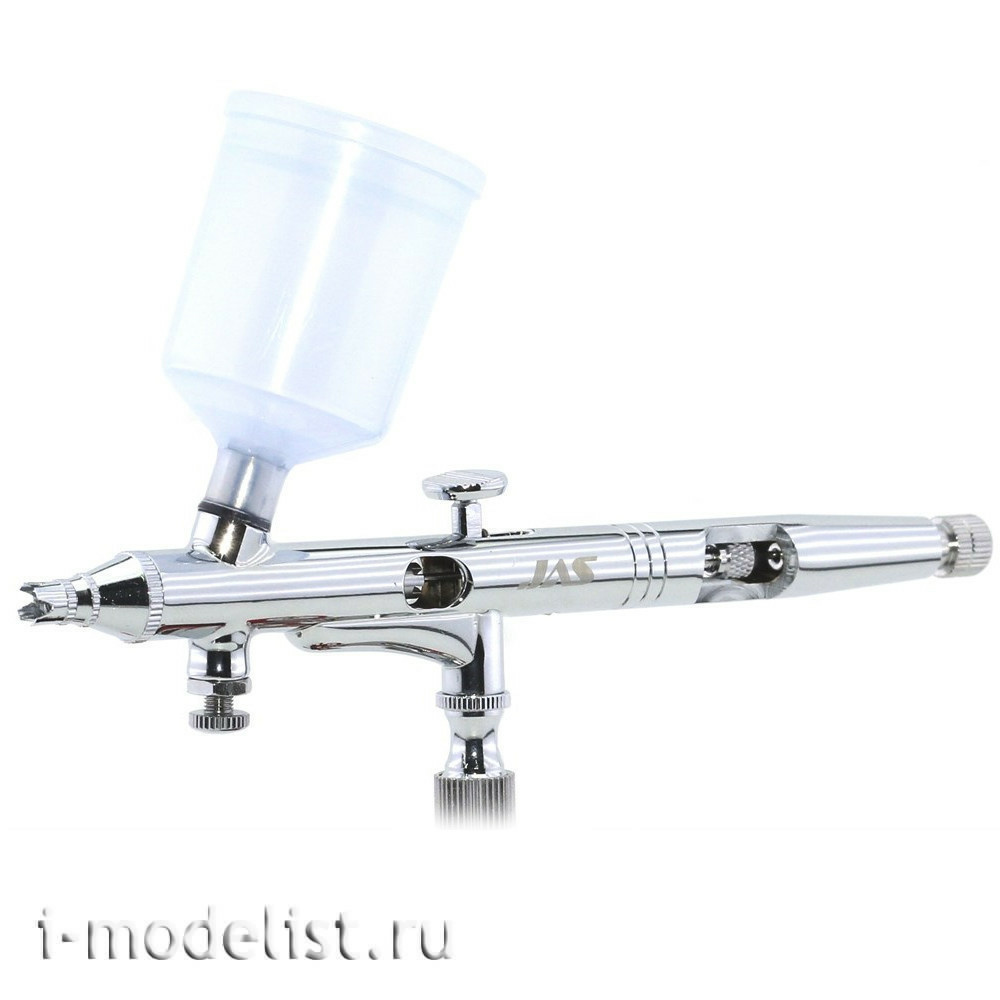 1147 Airbrush Jas wide range of applications
Vendor code: 1147
Manufacturer: JAS
Availability: Are available
Additional Information
Airbrush wide range of applications. The presence of Air control allows you to adjust the pressure of the supplied air in the airbrush. The presence in the set of interchangeable containers for paint allows you to produce different amounts of work.
the
SPECIFICATIONS.
control Type: double, independent
mixing Type: internal
paint Flow: upper
nozzle Diameter: 0.3 mm
the
the Volume of the container under the paint: 20ml, 40ml
Working pressure: 1-3,5 kg/cm2
fitting Size: G1/8"
paint flow Limiter: Yes
Package includes: airbrush, paint containers (1 PC. x 20 ml, 1 PC. x 40 ml), fitting, key, instruction, box, warranty card form.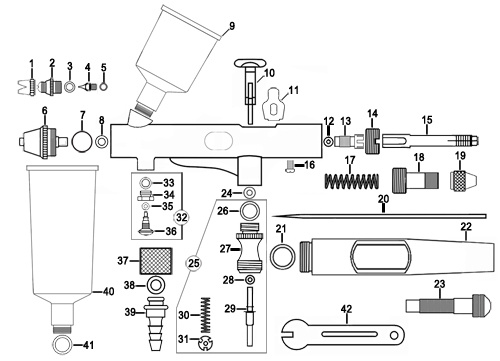 the
statement for the selection of spare parts for airbrush
1. Diffuser 22. Rear protective cover
2. The body of the diffuser 23. Paint flow regulator
3. Rubber seal 24. Rubber seal
4. Nozzle 25. Air valve Assembly
5. Rubber seal 26. Rubber seal
6. Atomizer housing 27. Air valve body
7. Rubber seal 28. Rubber seal
8. Rubber seal 29. Air valve
9. Capacity under the paint with a lid 30. Air valve spring
10. Control lever 31. Air valve washer
11. Needle control lever 32. Air Control Assembly
12. Needle gasket 33. Rubber seal
13. Locking sleeve 34. Air Control housing
14. Locking sleeve 35. Rubber seal
15. Guide needle with a collet Chuck 36. Air Control adjusting screw
16. Sleeve locking screw 37. Connector nut
17. Needle return spring 38. Rubber seal
18. Spring clip 39. Connector
19. The locking nut of the clamp 40. Paint container with lid
20. Needle 41. Rubber seal
21. Rubber seal 42. Key
---
Additionally, we recommend also purchasing
---
Related Products
---
You watched recently