1139 Airbrush Jas for a small amount of work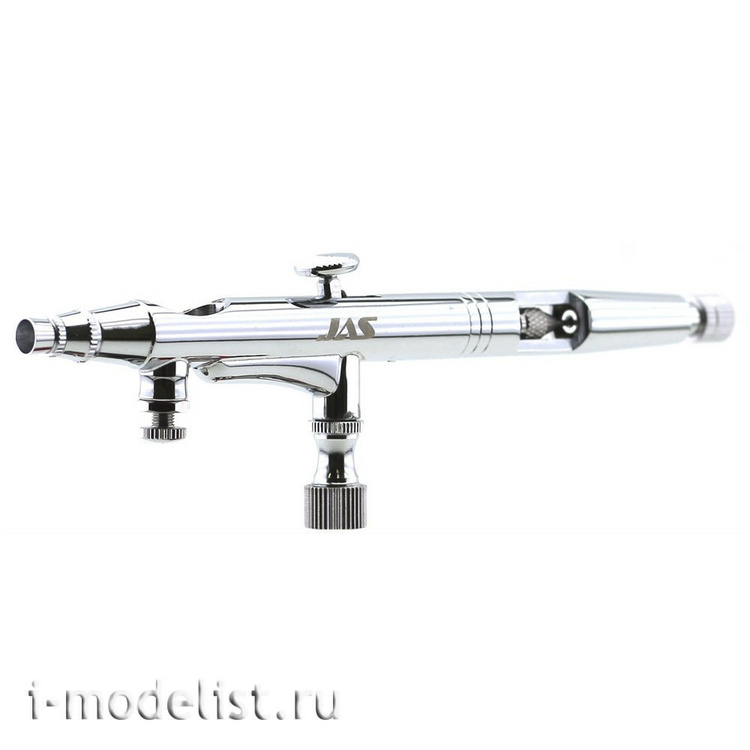 Vendor code:
1139
Manufacturer:
JAS
Availability:
Are available

Additional Information
Airbrush for small amount of work. The presence of Air control allows you to adjust the pressure of the supplied air in the airbrush.
Technical specifications.
control Type: dual, independent
Type of mixing: internal
Feed paint: top
nozzle Diameter: 0.2 mm
capacity paint: 0.5 ml
Working pressure: 1-3. 5 kg/cm2
Size of fitting: G1/8"
the flow Restrictor of paint: Yes

package includes: airbrush, eyedropper, key, manual, box, blank warranty card.
Airbrush unit: scheme and details: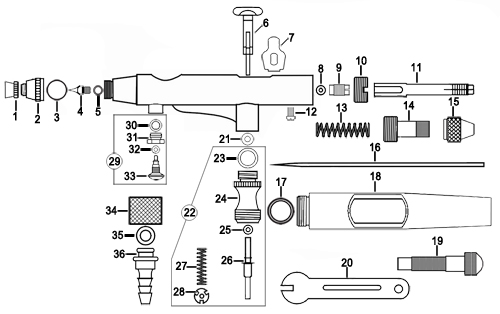 | | |
| --- | --- |
| 1. | Diffuser |
| 2. | diffuser Housing |
| 3. | Rubber seal |
| 4. | Nozzle |
| 5. | Rubber seal |
| 6. | Lever< / span> |
| 7. | needle control Lever |
| 8. | needle Gasket |
| 9. | Locking sleeve |
| 10. | Locking sleeve |
| 11. | needle Guide with collet < span> |
| 12. | sleeve Locking screw |
| 13. | needle Return spring |
| 14. | box springs< / span> |
| 15. | Clamping nut |
| 16. | Needle |
| 17. | Rubber seal |
| 18. | rear Protective cover |
| 19. | paint flow Regulator |
| 20. | Key |
| 21. | Rubber seal |
| 22. | Air valve Assembly |
| 23. | Rubber seal |
| 24. | air valve Body |
| 25. | Rubber seal |
| 26. | Air valve |
| 27. | air valve Spring |
| 28. | air valve Washer |
| 29. | Air Control Assembly |
| 30. | Rubber seal |
| 31. | air Control Housing |
| 32. | Rubber seal |
| 33. | air Control Adjusting screw |
| 34. | connector Nut |
| 35. | Rubber seal |
| 36. | Connector |