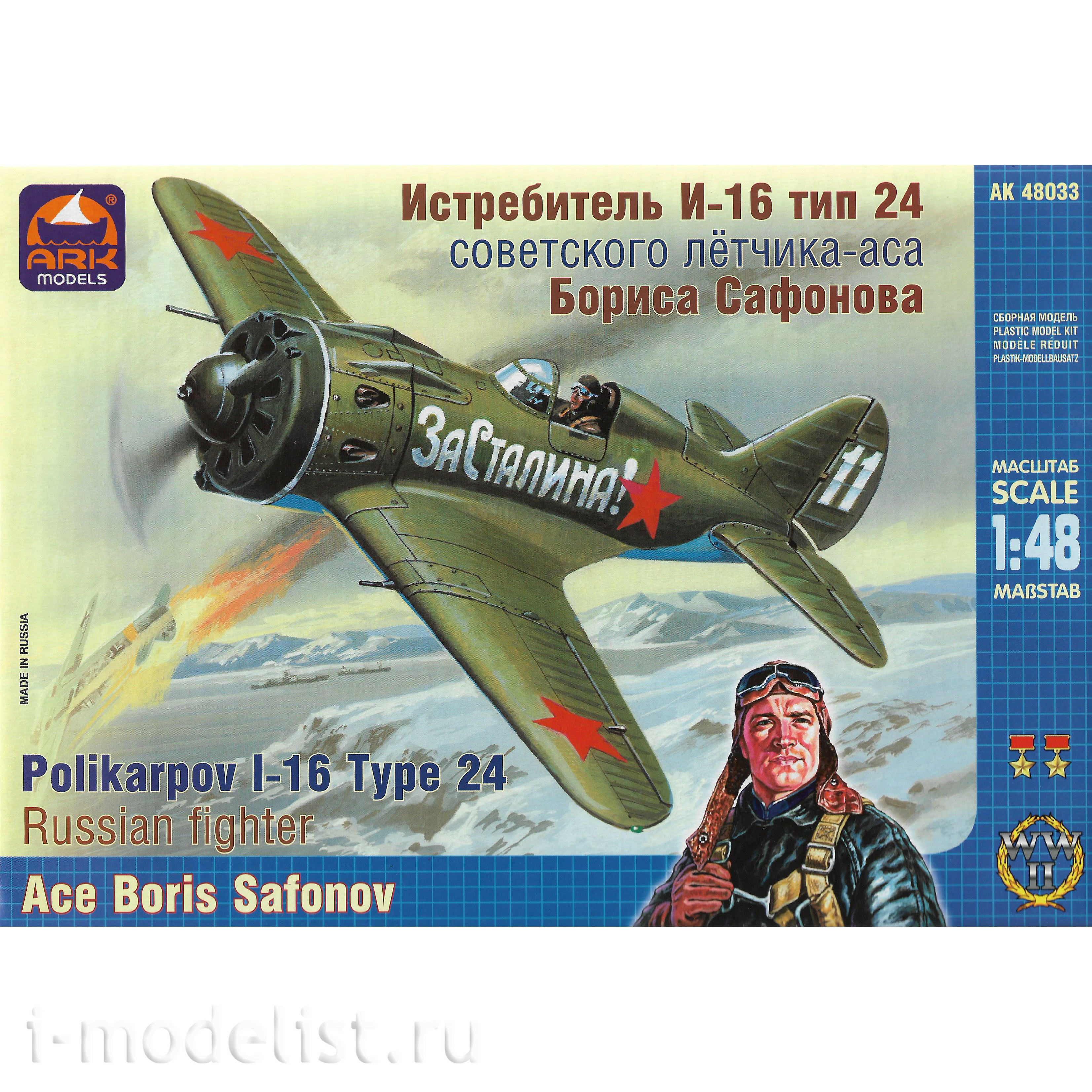 48033 ARK-models 1/48 Fighter I-16 type 24 Soviet ACE pilot Boris Safonov
Vendor code: 48033
Manufacturer: ARK-models
Availability: Are available
Additional Information
a Further modification of the type 18 in accordance with the standards of strength in 1937. Installed a new screw and spinner. The motor is equipped with a regulator of constant speed, enabling the pilot to keep the desired number of revolutions. The crutch on the type of the 24 found a small wheel and an oil-pneumatic shock absorption. Introduced landing flaps with mechanical control. Installed the second tailgate of the cockpit on the right side. Although the tailgate on the right side was officially introduced on the type 24, there was a similar improvement on other types.

Boris Feoktistovich Safonov is the most famous and truly legendary fighter pilot of the first period of the war in the USSR. Exceptional perseverance in the study of flight disciplines and General subjects, the desire to improve the quality of piloting aircraft and accuracy of fire, thinking about the tactics of fighters allowed Safonov before the war to develop the basic rules of air combat. With the beginning of the great Patriotic war, senior Lieutenant Safonov commanded a squadron of the 72nd mixed aviation regiment. The war began on the fighter I-16. His first victory Safonov won the evening of June 24, 1941, flying on his I-16 to intercept the intelligence Ju-88. But especially the talent of the pilot as a great air fighter appeared in the next 2 months, when the Germans launched massive raids on Soviet airfields and the port of Murmansk. On his I-16 B. F. Safonov made 109 sorties and shot down 17 German bombers and fighters. For all time fighting on his jet have replaced 3 motor. I-pilot, exemplary of duties performed by the technician aircraft mechanic Semenov and caps. Safonov repeatedly said: "half of the shot down aircraft I will take due to the technique Semenov and minder Kolpakova". Currently, this aircraft is stored in the Leningrad Naval Museum.
The recommended paints
| | |
| --- | --- |
| | Темно-зеленый матовая (Dark Green) |
| | Черный глянцевая (Black) |
| | Светло-голубой (Light Blue) |
| | Коричневый матовая (Flat Brown) |
Caution! Glue and paints are not included.
The configuration and appearance of the model are subject to change without notice.
---
Related Products
---
You watched recently