303508 Modeler 1/35 German tank T II D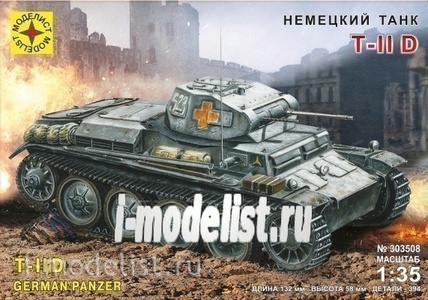 Vendor code:
303508
Manufacturer:
Моделист
Availability:
Are available





Additional Information
In the first years of world war II the most numerous were panzerkampfwagen II tanks, abbreviated as Pz.Kpfw II (military designation Sd. Kfz 121). In Russia and the allies they were called – T-II (by analogy with the usual names of Soviet tanks). In 1940, 523 PZS were used in the attack on France.I, 955 Pz.II, 349 Pz.III, 278 Pz.IV, 106 P 35(t), 228 P 38(t) and 135 commander tanks. In June of 1941. in the attack on the Soviet Union was involved 180 Pz.I, 746 Pz.II, 965 Pz.III, 439 Pz.IV, 772 P 38(t) and 230 commander tanks. T-II suffered heavy losses in battles with British and French tanks, they were inferior to the Soviet T-26 and BT. But before them, and not the task of fighting the enemy tanks. Entered into breakthroughs T-II sought to seize bridgeheads, crossings, to prevent the creation of knots of the enemy's defences and the approach of reinforcements, disrupting the supply to make a panic in the actions of the defending troops and thanks to the high speed and maneuverability to avoid a collision with the superior forces. These tasks and the idea of "blitzkrieg" is fully consistent with the developed in 1938 by Daimler-Benz high-speed tank Pz.Kpfw II Ausf.D with Christie type chassis ( four large support rollers on individual torsion bar suspension without support rollers). The thickness of the frontal armor was increased to 30 mm, and the speed reached 55 km/h. These tanks formed the main striking force of the 2nd and 3rd light divisions during the campaign in Poland, operating in breakthroughs up to 80 km ahead of the advancing troops. They distinguished themselves in France in 1940. In 1943 – 1944, when the idea of "blitzkrieg" finally failed, and the German infantry was in dire need of self-propelled artillery, on the basis of T-II was released 676 105-mm self-propelled howitzers "Vespe". A significant amount of T-IID was converted into self-propelled units "Marder II". But still in 1939 on base Tbilisi-IID began to manufacture flamethrower tanks "Flampanzer II", which later in the composition of the 100, 101 and 102 flamethrower battalions widely enforced on Kursk an arc.
Number of parts - 394 PCs.
model Length - 132 mm
model Height - 58 mm
The recommended paints
| | |
| --- | --- |
| | Коричневый матовая (Flat Brown) |
| | Песочный (Sand) |
| | Белый глянцевая (White) |
| | Полевой серый (Field Grey) |
| | Вороненая сталь (Gun Metal) |
Caution! Glue and paints are not included.
The configuration and appearance of the model are subject to change without notice.