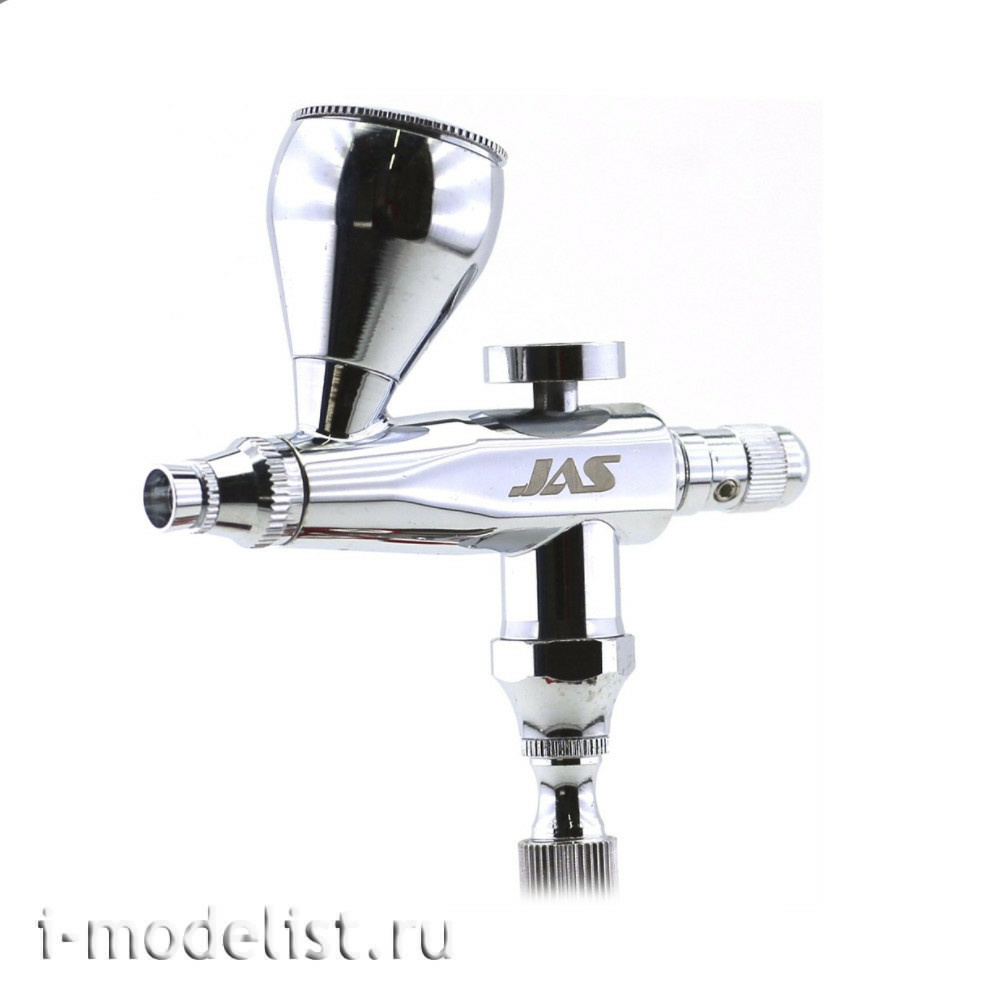 1126 Airbrush JAS professional class has fine-tuning adjustment of the paint supply, well suited for work that does not require constant changes in the adjustment of the paint supply
Vendor code: 1126
Manufacturer: JAS
Availability: Are available
Additional Information
Airbrush professional
class. It has a fine adjustment of the ink supply. Well
suitable for jobs that do not require constant changes in the regulation
paint supply.
Specifications.
control Type: double, dependent
Type of mixing: internal
Feed paint: top
nozzle Diameter: 0.3 mm
capacity paint: 5 ml
Working pressure: 1-3. 5 kg/cm2
Size of fitting: G1/8"
the flow Restrictor of paint: Yes

package includes: airbrush, wrench, manual, box, blank warranty card.
Airbrush unit: scheme and details: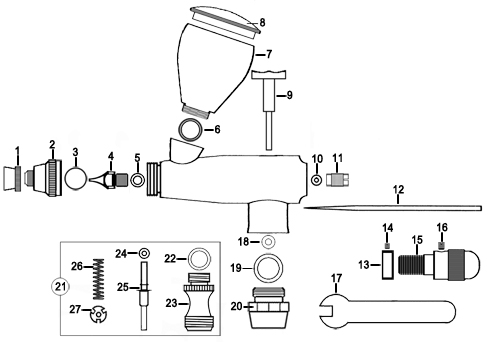 | | |
| --- | --- |
| 1. | Diffuser |
| 2. | diffuser Housing |
| 3. | Rubber seal |
| 4. | Nozzle |
| 5. | Rubber seal |
| 6. | Rubber seal |
| 7. | paint Tank |
| 8. | paint tank Cover |
| 9. | Lever< / span> |
| 10. | needle Gasket |
| 11. | Locking sleeve |
| 12. | Needle |
| 13. | Limiting sleeve |
| 14. | sleeve Locking screw |
| 15. | paint flow Regulator |
| 16. | Locking screw |
| 17. | nozzle change Key |
| 18. | Rubber seal |
| 19. | Rubber seal |
| 20. | Adapter |
| 21. | Air valve Assembly |
| 22. | Rubber seal |
| 23. | air valve Body |
| 24. | Rubber seal |
| 25. | Air valve |
| 26. | Spring |
| 27. | valve Washer |
---
Additionally, we recommend also purchasing
---
Related Products
---
You watched recently