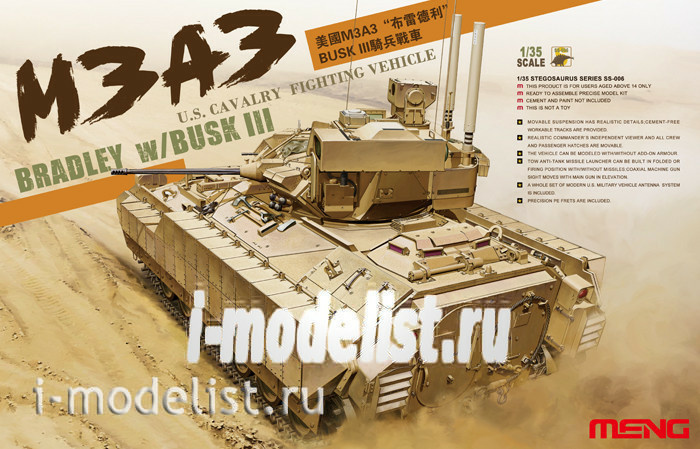 SS-006 Meng 1/35 U.S. CAVALRY FIGHTING VEHICLE M3A3 BRADLEY w/BUSK III
Vendor code: SS-006
Manufacturer: Meng
Availability: Are available
Additional Information
M3A3 Bradley BUSK III cavalry fighting vehicle, is mainly used for reconnaissance. The machine is equipped with command information system and Bradley Urban Survival Kits (BUSK) (set for the survival of the machine in urban combat), which is reflected in the name. Bradley has high security and information security. Ten tow anti-tank missiles can be located in the passenger compartment. Installed diesel engine VTA-903T 600 HP and hydromechanical transmission HMPT-500-3. The twin turret has a 25mm m242 Bushmaster gun and a 7.62 mm M240C machine gun, with two TOW anti-tank missiles mounted on the turret. Including crew members, there can be 5 people inside. Bradley is used by the US army inside the country, as well as in Afghanistan, Iraq and South Korea. 
model length: 203.5 mm
width: 107.3 mm
height: 97.1 mm
model features: openable hatches
working tracks are assembled without glue
working suspension
the sight moves with the gun
several options for the installation of ammunition and additional armor.
Caution! Glue and paints are not included.
The configuration and appearance of the model are subject to change without notice.
---
Additionally, we recommend also purchasing
Not available
Vendor code: SPS-017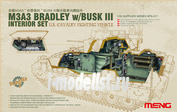 Vendor code: 36021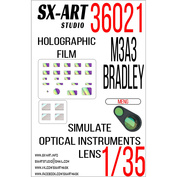 ---
Related Products
---
You watched recently