72270 Eastern Express 1/72 Torpedo honest, Yes, I MK.I
Vendor code:
72270
Manufacturer:
Восточный экспресс
Availability:
Are available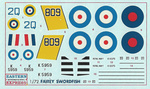 Additional Information
Military life torpedo bomber Fairey "of Swordfish" in ways similar to the fate of the famous politicheskogo "maize" Is 2. Despite the obvious archaic design, he stayed in the line of fire literally the whole war. On account of "suordfish" more destroyed enemy ships than any other types of allied aircraft. In the early 1930 - ies in the aviation of many countries dominated the concept of a multi-purpose biplane suitable for reconnaissance, bombing, and use as a stormtrooper.
Caution! Glue and paints are not included.
The configuration and appearance of the model are subject to change without notice.