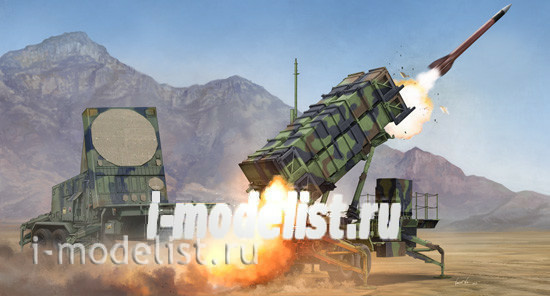 01022 Trumpeter 1/35 M901 Launching Station
Vendor code: 01022
Manufacturer: Т$ач
Availability: Are available
Additional Information
MIM-104 Patriot is a surface-to-air missile system, the main type used by the us army and its allies. The name "patriot" comes from the designation of radar AN/MPQ-53 "Phased Array Tracking Radar to Intercept On Target" which can be translated as "radar tracking c phased array antenna to intercept targets." The Patriot system replaced Nike Hercules in air defense at high and medium altitudes and the MIM-23 Hawk at medium altitudes. In addition, Patriot was assigned the function of intercepting ballistic missiles, which is currently the main task of the complex.
For transporting complex is used HEMTT M983.
Length: 294.5 mm
Width: 172.5 mm
Number of parts: more than 900
the kit includes M901 Launching Station of MIM-104 Patriot SAM (PAC-2) (missile system) and AN/MPQ-53 Phased Array Radar (radar).
Внимание! Клей и краски в набор модели не входит.



---
Related Products
---
You watched recently