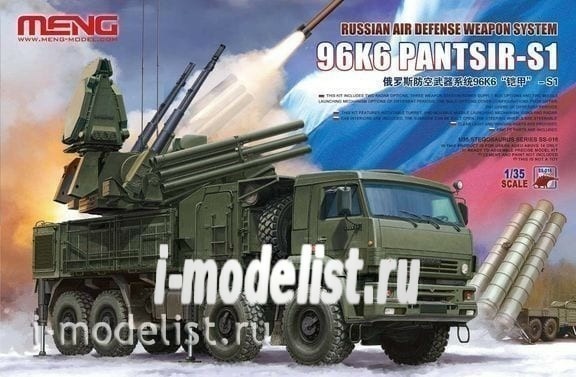 SS-016 Meng 1/35 Russian Air Defence Weapon System 96K6 PANTSIR-S1
Vendor code: SS-016
Manufacturer: Meng
Availability: Are available
Additional Information
96K6 "Shell-C1" was developed by instrument design Bureau (Tula), chief designer - Arkady Shipunov. Development of anti-aircraft missile and gun complex (zrpk) was conducted on the topic of ROC "Roman" by order of the USSR air defense since June 1990. it was Supposed to use zrpk as a short-range air defense system to cover the positions of air defense systems S-300V and S-300, as well as to cover groups of troops. Later zrpk is offered also to Land forces, airborne forces and the Russian Navy. When designing zrpk used achievements KBP to create 2К22М zrpk "Tunguska-M". The prototype of the Roman / Pantsir-S1 complex was created in 1994 and was first publicly demonstrated at the MAKS-1995 air show. Head the customer zrpk 2005 the Russian air force.
the Purpose of the modernized complex since the 2000s is the near air defense of stationary objects, including long-range air defense systems, from air attack means. In 2006 tests on the Kapustin Yar range of the modern model of the complex on the KAMAZ chassis were started. Tests of zrpk "Pantsir-S1" took place during 2006-2007 on the grounds of Kapustin Yar and Ashuluk in the Astrakhan region.
Serial production zrpk launched in 2007 the First batch of production zrpk "Carapace-C1" is transferred by the manufacturer (KBP, Tula) of Russia's air strikes on March 18, 2010 In January 2012 in mass media the information appeared that in 2020, the armament of air defense troops of Russia will arrive not less than 100 air defense system "Armour-C1." November 16, 2012 zrpk "Pantsir-S1" officially adopted by the Russian armed forces.
The recommended paints
| | |
| --- | --- |
| | Черный матовая (Flat Black) |
| | Красный глянцевая (Red) |
| | Зеленый матовая (Flat Green) |
| | Белый матовая (Flat White) |
| | Голубой (Blue) |
| | Песочный (Sand) |
| | Светло-серый (Light Grey) |
| | Оранжевый (Orange) |
| | Средне-серый (Medium Gray) |
| | Черная резина (Rubber Black) |
| | Красно-коричневый (Red Brown) |
| | Тёмно-серый (Dark Gray) |
| | Вороненая сталь (Gun Metal) |
| | Notбесно-серый (Sky Gray) |
| | Охра (yellow ocher) |
| | Серебро (Silver) |
| | Оливково-зеленый матовая (Olive Green) |
| | Алюминиевый (Aluminum) |
Caution! Glue and paints are not included.
The configuration and appearance of the model are subject to change without notice.
---
Additionally, we recommend also purchasing
Vendor code: M35 080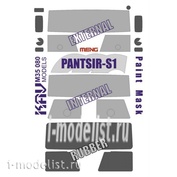 Vendor code: M35 103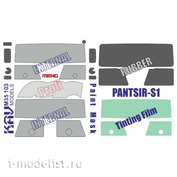 ---
Related Products
---
You watched recently